Information about the Magistrates court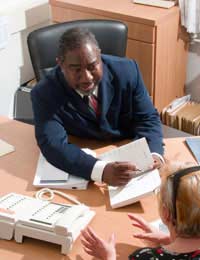 Most of the criminal court cases that are heard in England and Wales take place in a Magistrates Court. A Magistrates' Court is usually presided over by three magistrates. They are called Justices of the Peace. The panel of judges is often called the Bench. Magistrates are not paid, but they can claim for expenses and loss of earnings. There are roughly 30,000 magistrates currently working in England and Wales. You can locate your local Magistrates' Court on the HMCS website: www.hmcourts-service.gov.uk/HMCSCourtFinder.
In addition to the ordinary magistrate, England and Wales also have 130 District Judges. They have more formal legal qualifications than a magistrate. They usually sit alone and handle more complex and serious offences such as fraud. In a Magistrates' Court sentences of more than 6 months cannot normally be handed down, or fines over £5,000. If the offender's crime is more serious and requires a higher fine or a longer sentence, the Magistrate's Court will refer the case to the Crown Court.
Cases at the Magistrates' Court
Most of the cases that come before a Magistrates' Court will be bought by the Crown Prosecution Services (CPS). However, some government departments such as HM Revenue and Customs and the Health and Safety Executive may bring their own cases. The CPS will also have a representative in court to prosecute their case.
Defendants who come before a Magistrates' Court will either be in police custody, are on bail, or have been summoned to court (if they haven't paid their council tax for instance). For defendants there is a duty solicitor if they have not brought their own to court. Often with minor cases such as motoring offences the defendant will represent themselves.
When the court is in session the defendant who is before the magistrate for a summary offence (that is a petty crime that doesn't need a jury to decide on guilt or innocence) will be asked to make a plea. If this is not guilty a date will be set for the trial. If the charge is an either way offence (in that the cases could be heard equally at a Magistrates' or Crown Court) the Magistrate will decide how to proceed after arguments by the prosecution and defence have been heard. If the offence is indictable (that have the right of trial by jury) the case will be sent straight to the Crown Court. If the plea is guilty the Magistrate will consider sentence, but if the crime is serious they may refer the case to the Crown Court that can impose higher sentences than the Magistrate is allowed.
Criminal Offences
There are a number of criminal cases that can go before a Magistrates' Court. They are divided into three categories and include:
Summary Offences. Cases that fall into this category include driving offences and disorderly conduct.
Triable either way offences. Cases that fall into this category include serious assault and theft. Note that these cases because they are more serious can also be tried in a Crown Court.
Indictable offences. Cases that fall into this category include rape and murder. All this category of offences can also be tried at a Crown Court. The Magistrates' Court will decide if bail will be allowed before the case moves to the Crown Court.
Civil Offences
A Magistrates' Court has a number of civil duties that it carries out. These include:
Cases concerning the welfare of children.
Granting gambling and betting licences.
Dealing with people who don't pay their council tax.
Family law including maintenance orders.
Granting alcohol licences.
Magistrates' Courts also issue warrants that have been requested by their local police force and also handle cases in the Youth Court when offenders are aged between 10 and 17. The magistrates that preside over youth courts have specialised training in dealing with young offenders. Magistrates' in a youth court can impose a custodial sentence known as a DTO or Detention and Training Order that can last up to two years.
Magistrates' Courts in Scotland
Depending on the type of offence, summary crimes in Scotland are heard by the Sheriff Court or the District Court. As in England and Wales, one or more Justices of the Peace will judge offenders in these courts. Offences heard in District Courts are of two types. The solemn procedure hearing takes place before a judge and 15 jury members. In these cases, the offender can be found guilty, not guilty or not proven. The summary procedure is a case where the judge sits without a jury.
Magistrates' Courts in Northern Ireland
Northern Ireland has its own magistrates' court system. County Courts are similar to the Magistrates' Courts in England and Wales. They deal with petty crimes and also offences linked to young people and family disputes.
You might also like...
Why should I travel 50 miles each way to a magistrates court to defend myself in another county? I have been presumed guilty and cannot afford the travel.
Saki
- 12-Sep-12 @ 1:28 PM
I want to prosecute someone who forged my signature and wiped out my bank funds. I have a forensic expert report that the forged signature used in the fraud is not made by me. How do I obtain the Court Form for issuing a summons? What fee do I have to pay? I am a litigant in person.
youky
- 14-Aug-12 @ 10:34 PM
? I was in the magistrates court today pleading not guilty to charges of wilful obstruction of the highway section 137, the complaint from the LBE london borough of enfield is that I was storing materials on the highway,we were granted planning permission to build a three bedroom house next to our house, we have no front gardens, so the contractors have only the road in front of the house to put materials and they are used, I have argued that the materials are not stored on the highway and that they are not mine, my question is! are the materials deemed to be mine as they are being used to build my house, sort of by default, even though I have not bought / paid for them, it constitutes a bulk bag of sand and a pallet of roof tiles, I have said that they are not my materials so pleaded not guilty, it is set for trial in early september . post code en3 6et. thank's
Mel Woodbridge
- 6-Jul-12 @ 10:09 PM
i am on a theft charge in magistrates court i was in a local pub i got drunk and took a womans handbag and put it in the toilet i never stole anything also she has told police i havent stole anything but im still in court and evidence is cctv showing me staggering to the toilet with her bag this was merely a drunken joke i have pleaded not guilty to theft but admitted it was a joke what will happen ?
none
- 28-Feb-12 @ 6:42 PM
iv been accused of assualt and pleaded not guilty but self defense against an ex partener iv been to court three times now including the summary and the courts have run out of time each time due to other cases running over there time how long can this go on for?
sparky
- 22-Feb-12 @ 2:10 PM
i have a motoring case yet to be scheduled in west yorks. how can i have this transferred to a local magistrates court. I am disabled and cannot travel 220 mile round trip, and defend my own case, it is physically impossible with my disabilities.
none
- 24-Nov-11 @ 11:04 PM
Council Tax arrears but paying some ammount of it
None
- 26-Oct-11 @ 8:39 PM
What will happen to me. Cause I totally forgot about my court case today for assulting someone months ago and I was that busy that I forgot could I get arrested I dot have a number for the court in greenock - Scotland and don't know what to do.
Daisy
- 18-Oct-11 @ 3:32 PM