How to Apply for Adoption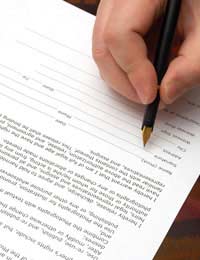 Adopting a child is never a decision to be taken lightly. If you already support the children in your local are with foster care you already have some experience of working with children that are not your own. Adoption is now a well established process you can go through to make yourself the legal parent and guardian of a child. You must fulfil all of the adoption criteria at each step of the adopting process before moving to the next.
Who can adopt is a question that is often asked. Single and married people, if you are currently between employment, are divorced or are gay or lesbian couple can all apply for adoption. The adoption agency is keen to speak to anyone from whatever background about possibly becoming adoptive parents. Even if you have a criminal record, the offence you committed will be taken into consideration. However, if your offence was against children, it's unlikely that your adoption application will be successful.
The Adoption Process
After you have made your decision to adopt a child your application will be sent to the adoption agency. You will be assigned a social worker that will deal with your case. Your local authority is now legally bound to offer you help and support as you move through the adoption process.
Your first port of call is your local adoption agency. You can locate your on the British Association for Adoption & Fostering website
The general adoption process includes:
Visits from social workers
Social workers from the adoption agency will make several visits to your home. The will look at your current and past family background. The social worker that is expert in the adoptive system will speak to your partner and any other children you have. They will also interview two personal referees you have supplied.
Medical Examination
You will have to take a full medical examination that will be carried out by your GP. They will send their report to the adoption agency. The medical history of your immediate family will also be looked at closely. It is important for you to reveal any medical conditions that could prevent you from adopting a child under the age of 18 years of age.
Your Home Study Report
The home study report can take several months to complete and will involve many visits from the adoption agency staff. The home study has to be done in great detail as placing a child with adoptive parents must be assessed throughly as the adoption is for life. Don't hide any facts about yourself or your family as these will be uncovered during the home study report. If you fail to reveal any facts that could impact on your ability to adopt a child, this could damage your chances of an adoption being granted.
The Adoption Panel
Once the home study report is complete, this moves to the adoption panel who will look at the report in great detail and decide if you and your family can adopt the child you would like to give a new home to. The recommendations of the adoption panel are then sent to the adoption agency's final decision makers.
Adopting Your Child
The overall process of apply to adopt a child can take upwards of eight months to complete. After the adoption process is complete, it can then take up to a year to match you with a suitable child. If you already have a child in foster care living with you and would like to adopt that child, the earliest you can begin the application is 13 weeks after the child began living with your family.
Additional information
As well as adopting a child that is not a direct relative, you can also apply to become the adoptive parent of a step child. Your local authority will prepare a report on the child's birthmother or birthfather.
Adopted children in England, Wales and Northern Ireland are entitled to see their birth certificate as the age of 18, or 16 in Scotland. This will reveal the names of their birthmother and/or father.
You may be entitled to statutory adoption leave if you have worked for your current employer continuously for over 26 weeks. This leave can last up to 52 weeks, of which 39 must be paid.
You might also like...
my name is bersufekad i living to ethiopia i am 17 years old so please help me my family is poor and ethiopian condition is not good so help me
Bersufekad
- 14-Jul-23 @ 3:09 PM
hello how are you my name is bersu i living to ethiopia i am 17 years old so please support me my family is poor so please help me
Bersufekad
- 14-Jul-23 @ 3:06 PM