Court: Recall on Licence
By: Lorna Elliott LLB (hons), Barrister - Updated: 18 Jun 2019
|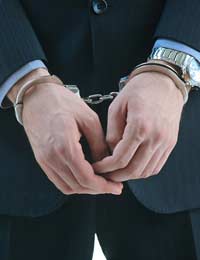 After serving a prison sentence a lot of prisoners are released on licence. There are a standard set of terms that apply to all prisoners released on licence, but more stringent conditions can be set by the sentencing court, the prison, and other authorities.
If a prisoner is released on parole or licence, they will be subject to supervision by their outside probation officer (called an offender manager.) At the point of release, an offender will be given a set of terms and conditions of their licence that they are advised to check before they are released. If an offender fails to comply with the terms of their licence they run the risk of being recalled to prison.
Why do People get Recalled?
Contrary to popular belief, it is not necessary to commit a further offence to be recalled to prison. Although being arrested for a further offence may be a reason to recall a prisoner on licence, this does not automatically mean that an offender will be recalled. Another reason that is often used to recall an offender on licence is if the offender's 'behaviour' makes the offender manager believe that another crime is about to be committed. This is very widely interpreted, and may constitute e.g. drinking heavily or taking drugs, behaving strangely or erratically, amongst other things.
Another common reason for being recalled to prison is for breaching a licence condition. This again is widely defined and can range from failing to attend a probation appointment, being late back for a curfew, to going into an area where you are prohibited from entering by virtue of the conditions of your licence.
How Does Recall Work?
The Public Protection Casework Section (PPCS) of the National Offender Management Service makes the decision to recall offenders. The PPCS is given power to do so by the Secretary of State for Justice. When an offender is recalled, the local police are notified and the offender is arrested and taken into custody (police station.)
What Happens Next?
Offenders who have been recalled to prison will receive written reasons as to why they have been recalled. This is in the form of a 'recall pack'. If the offender disagrees with the reasons for the recall it is possible to make representations against the recall. It is usually possible to get a lawyer to help with this process. Offenders who are not considered to pose a high risk of serious harm to the public will be released after 28 days (presuming they have not been sentenced to further terms of imprisonment in the meantime). At the 28 day review stage, the Parole Board can either decide to release the prisoner immediately, release them at a future date, order an oral hearing, or make no recommendation as to release at all. Other offenders will not be released but the Secretary of State is under a duty to review the detention of recalled prisoners on a regular basis (usually every six months.)
If an Offender is Not Released After 28 Days
In these circumstances, it is possible to ask the Parole Board for an oral hearing at which you can call witnesses and challenge the lawfulness of the recall. The Parole Board does not have to grant you an oral hearing, but may do so if in all the circumstances it is fair to hear oral evidence.
In certain circumstances, the decision to recall may be liable to judicial review. It is always wise to seek the specialist advice of a lawyer before embarking on this course of action.
You might also like...
If someone displays bad behaviour through malicious communication is this a recall offence ,if So is it a standard recall offence or not?
smokeyj
- 18-Jun-19 @ 4:04 PM
Hi how does it go if someone is on licensetoaddress but is staying somewhere else .
Tilly
- 25-May-19 @ 4:17 PM
Hi my son got recalled but his case got discontinued nd he is still in prison how long can they keep him there he should ov been released they have nothing on him
Mandy
- 16-May-19 @ 4:37 AM
My boyfriend Andyreader send back prison because relcellin Feb and done get out to 10/12/19he never 3mth on topway can't him have taken. Could some tell way send prison,
Jane
- 13-Mar-19 @ 9:13 PM
My bro was sent to prison cause of domestic violence and criminal damaged He had 12 weeks to 6 weeks After he was released he had to attend probation until his licence has finished He has missed two appointments and he has been recalled How long will he be in prison for
Flee
- 3-Jan-19 @ 2:03 PM
if a peadophile is in prison serving a 28 year (14 years to run concurrent) release date 2020 he wont admit hes done wrong does he still get released?
Annie
- 20-Dec-18 @ 9:56 PM
My son as been recalled and will hand himself into the local police station today! Will he go to the same prison he was released from for the remaining of his sentence ? Thankyou
Wigan
- 21-Nov-18 @ 11:42 AM
A freind of mine has been prison for 18months for drink driving, dangerous driving and aggravated twoc..If He was recalled off probation would he get a standard recall or fixed term recall?? And no further offence was committed!
Been re called for 28 days missed court today for what I was recalled for criminal damage any ideas the score I'm still waiting on police to arrive and get me
Cro
- 18-Oct-18 @ 4:50 PM
Hi ,could you give me advice on my article please ,rash 5 October 2018
Rash
- 12-Oct-18 @ 9:40 PM
Hi,my son was recalled july 2017 with further charges his charges were dropped March 2018 ,having suffered in prison regards them charges ,he was told he would get released,,I have been having many issues with the probation worker or: her not engaging with him in a positive way helping towards work training !! who personally taking his charges personally although he has no charges left & has outline her conditions for oral hearing which are extreme,suggesting if released would 1-2 myths after hearing for bail hostel , in my opinion & other associates I've spoken to ,his licence ends july 2019 ,we did complain before and asked for a new probation worker but was rejected ,I just wanted to know why all this when his got no further charges .
Rash
- 5-Oct-18 @ 4:14 PM
My partner was recalled last wensday and he handed him self in to police would he only serve his 28 days I just never been in this situation before
Shelley
- 6-Sep-18 @ 3:41 PM
My partnerwas on parole and we had a small verbal argument, there was some minor charges against a police officer, and all those charges dropped to a section 4. My partner forgot to inform parole that he was in a relationship even if that was one of the conditions of his parole. Don't know what to do anymore.
My boyfriend is an IPPs lifer and has been recalled to prison for breaching his curfew at his bail hostel. No crime was committed during this time that makes him a threat to the community. I have read somewhere there is a chance he might have of doing a lesser sentence is this possible?
C_b-1987
- 27-Jul-18 @ 10:02 PM
Hi my o.h been caught now back in on recall while out he committed fraud what's his chances of getting out after he's done his recall he's admitted it all could he push for tag as he's done well on that before.
Mez
- 30-Jun-18 @ 9:46 PM
My partner was released on January after facing a prison sentance of 3 years he faced a year and a half, and was left out on license he has now been recalled for 28 days after missing him probabtion appointments by accident what is the chance he will stay in prison for the rest of his sentance or is there a high possibility he will be out within the 28 days?
Layla
- 7-Jun-18 @ 7:03 PM
Hi my boyfriend is on a 3 year licence after getting out of jail he was arrested early hours of the 2nd of June but was not charged due to insufficient evidence he has a meeting with his probation officer today and I am just wondering is there a possibility of him being recalled or not if so will he be eligible for a 28 day recall or will he do the full 3 years
My boyfriend was out on licence but was currently arrested and charged with assault he was sent back to prison for 8 weeks and recalled by he's probation officer will that mean he will have to stay in jail until the end of he's first sentence or just the days he's been recalled for?
Lisasheehan1987
- 23-May-18 @ 5:55 PM
My partner was recalled back to prison in March for basically word of mouth rumours and suspicion the police have not charged him there is no evidence against him yet he is still in prison even though they have charged two people with the offence and there going to court in July probation seem to be dragging there heels can anyone give me any information if this is right because he is in there for nothing
Nickie
- 16-May-18 @ 7:56 PM
Hi need some advice please my partner was arrested for a crime was reminded in to custody but court thrown it straight out but been recalled for rest of his license which we don't understand, his solicitor was doing paper work for him to be let out as no evidence says he done anything wrong he's stuck to all his appointment everything that he got told to do he did surly this recall for full license can't be right what else can we do, thank you.
Kel
- 17-Apr-18 @ 1:08 PM
my boyfriend have recall for help a mate and now him have be recall from that l would mean but him have did everything worry for him to get recall so what happened now
Jackie
- 14-Mar-18 @ 12:49 PM
My son has been recalled because police have evidence of attempted burglary but so far no charges have been made why not. What happens next.
Soso
- 1-Feb-18 @ 5:12 PM
I'm out on hdc my tag comes of the third of Feb but will be on licince for 18 months but got arrested on Wednesday 3rd Jan for cimimal damage saying I smashed a window the window was already smashed an she just wanted rid of me knowing I'd be in trouble will this mean automatic recall
Gdog
- 4-Jan-18 @ 5:50 PM
My boyfriend attended a meeting with his probation officer yesterday and they have said they are possibly going to recall him today due to steroids showing up on his drug test. I have tried to tell him that surely they would not send him home for him to be arrested the next day? But they said it needs to go to their supervisor before they can act on anything. He's completely changed his life around and they can see that so can they really recall him for something so petty?
Meghan
- 29-Dec-17 @ 9:52 AM
@Carey - at 18 the girl no longer is under parental repsponsibility and so will be free to make her own decisions. It all depends upon whether there is a specific restraining order made by the courts that he keeps away from her.
DanO
- 18-Dec-17 @ 11:14 AM
Hi my friend is in prison and his been recalled for the same offence he has been seeing this girl at the age of 15 and she's now 17 and his been in prison 4th time now and he really loves her and wants to be with her and he had conditions to not see or have any sort of contact with her told by probation and now his in for a recall for breaking the conditions he was given he got charged for abduction when he never even abducted her and she went to see him herself and it's now become really complicated because she's going to turn 18 on the 2nd of Feb and his license was going to finish on the 11th Feb now if he comes out will he still have conditions or will he be able to be with her without having to worry about probation and the police coming after them all the time??
Carey
- 16-Dec-17 @ 2:33 PM
I am wanted for recall but was 3wks left till the end of my sentence now I'm at large but I only have a week till my sentence expirey date will I only be recalled for the last week of sentence or will i do longer
Kezza
- 24-Nov-17 @ 12:31 AM
I have 3 months left on my license and was placed on the SOR due to an allegation made by my previous partner. I am wanting to stay at my new partner's house overnight but have been told by my probation officer that checks need to be made first. I have been told these checks can take a couple of weeks due to my partner living in a different county. What are these checks and how long do they take? Me and my new partner have been together for some time and she is agreeable to me staying at there/
Tom
- 14-Nov-17 @ 10:54 PM
I've got like 2 weeks left on my license. . I'm wanted for a few shoplifting charges ... what do you think will happen to me
Azza
- 7-Nov-17 @ 8:52 AM
If U've been recalled for a a crime U've not commited/been convicted of and is yet to go to trial... How long should it take to receive ur recall papers. If U've been remanded how does that work?
Lisa
- 24-Oct-17 @ 8:22 AM