Court: Recall on Licence
Author: Lorna Elliott LLB (hons), Barrister - Updated: 6 May 2013
|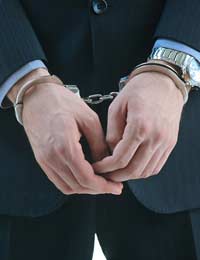 After serving a prison sentence a lot of prisoners are released on licence. There are a standard set of terms that apply to all prisoners released on licence, but more stringent conditions can be set by the sentencing court, the prison, and other authorities.
If a prisoner is released on parole or licence, they will be subject to supervision by their outside probation officer (called an offender manager.) At the point of release, an offender will be given a set of terms and conditions of their licence that they are advised to check before they are released. If an offender fails to comply with the terms of their licence they run the risk of being recalled to prison.
Why do People get Recalled?
Contrary to popular belief, it is not necessary to commit a further offence to be recalled to prison. Although being arrested for a further offence may be a reason to recall a prisoner on licence, this does not automatically mean that an offender will be recalled. Another reason that is often used to recall an offender on licence is if the offender's 'behaviour' makes the offender manager believe that another crime is about to be committed. This is very widely interpreted, and may constitute e.g. drinking heavily or taking drugs, behaving strangely or erratically, amongst other things.
Another common reason for being recalled to prison is for breaching a licence condition. This again is widely defined and can range from failing to attend a probation appointment, being late back for a curfew, to going into an area where you are prohibited from entering by virtue of the conditions of your licence.
How Does Recall Work?
The Public Protection Casework Section (PPCS) of the National Offender Management Service makes the decision to recall offenders. The PPCS is given power to do so by the Secretary of State for Justice. When an offender is recalled, the local police are notified and the offender is arrested and taken into custody (police station.)
What Happens Next?
Offenders who have been recalled to prison will receive written reasons as to why they have been recalled. This is in the form of a 'recall pack'. If the offender disagrees with the reasons for the recall it is possible to make representations against the recall. It is usually possible to get a lawyer to help with this process. Offenders who are not considered to pose a high risk of serious harm to the public will be released after 28 days (presuming they have not been sentenced to further terms of imprisonment in the meantime). At the 28 day review stage, the Parole Board can either decide to release the prisoner immediately, release them at a future date, order an oral hearing, or make no recommendation as to release at all. Other offenders will not be released but the Secretary of State is under a duty to review the detention of recalled prisoners on a regular basis (usually every six months.)
If an Offender is Not Released After 28 Days
In these circumstances, it is possible to ask the Parole Board for an oral hearing at which you can call witnesses and challenge the lawfulness of the recall. The Parole Board does not have to grant you an oral hearing, but may do so if in all the circumstances it is fair to hear oral evidence.
In certain circumstances, the decision to recall may be liable to judicial review. It is always wise to seek the specialist advice of a lawyer before embarking on this course of action.
You might also like...
I was given a sentence of 4 months home detention for a second drink driving charge, now one month into my sentence my mental health specialist has said she is going to try and get court ordered re-hab after my 4 months is over, I see this as un-fair as I have already been given my punishment, is she able to do this?
meow7
- 6-May-13 @ 7:21 AM
Hi, I plead guilty in plea guilty date, but my barrister made a mistake on sentence day, as she said he plead guilty one week before trial, therefore judge said I ll give him 20% back. my barrister promise to me to sort out the issue , because I believe I should get one third off, however she never helped me. now I am still in cat d prison I have got 11 month to serve and spend 22 month already. I am a family man, if I get any help and reduce my sentence it will make huge differences to rejoin my family. please help
na
- 24-Apr-13 @ 10:16 PM
I recently contacted my partners estranged wife to see if, she would agree to a divorce, his license conditions state that he is not to contact her directly or indirectly. He was not aware I had contacted her, is this a breech of his license?
lexi
- 14-Apr-13 @ 2:40 PM
My boyfriend is on licence and had been recalled back to prison for assaulting a police officer all he did was push him im worried as iv just lost my baby how long in prison will he get? Please just need to no as im not at rest till I know?
kala
- 24-Feb-13 @ 12:35 AM
My son has been recalled for drug offences and has just been sentenced, should the sentence run concurrently or does he have to wait till the initial licence has expired and the start the new sentence?
jaj
- 14-Feb-13 @ 3:12 PM
My husband has been recall to prison for an assult charge the cps have dropped all the chargers he's been back in prison now for 7 weeks and still hasn't recieved his recall pack can he get out without it
Lex
- 15-Jan-13 @ 4:25 PM
my boyfriend was released on lisence in june he has good with his appointments and drug testin but then last week he went awol cos we had a argument and he missed his testin and on weds mornin was arrested and taken back to prison im worried will he have to finish his sentance which is 9 months or will he do 28 days any advice wud be good thanx
kazii
- 17-Dec-12 @ 1:01 AM
My boyfriend was recalled to prison for not turning up to probation he hasn't been told when he is being released yet, it is 28 days today and no one noes what's happening probation has been around to see the house and he is no risk to the public he has 7 months on licence left can anyone give any advise ? The probation said he would be out most likly in 28 days but we no nothing can anyone help please
reagan1
- 13-Sep-12 @ 5:43 PM
My boyfriend is a prolific offender (burglary) and his offending is connected to his drug use.He has been in and out of jail for over 10 years.He has recently come out of prison on licence and has really tried to turn his life around.He has secured accommodation and still attends his drug rehabilitation sessions and recently found work. Then he got arrested on a minor charge with no further action.He has now totally stopped taking drugs and has had negative results on his drug tests for 5 months.We are both now worried that he will be recalled to prison for being arrested.He was caught with a phone, though not stolen.please advise. Thanks
Tara
- 11-Sep-12 @ 12:58 PM
My partner has just been recalled to prison after bein arrested! They couldn't give him a solid reason for arrest at the station,he's not been in prison for 31days and has not been given a recall pack! We know he wont get released after 28days cause he's high risk but surely he should of been given reasons for recall by now!
Ella
- 12-Aug-12 @ 8:49 PM
lisa was released from an 18 month sentance half way through and had to reside at a hostel she breached her conditions by failing to turn up at the hostel the local police were instructed by probation to arrest her which they did on a sperate matter 9 months later. She was sent back to prison to finish the remainder of the original sentance. A s she waited for tranport to prison she was released from court and told that probation had messed up her paperwork ie. the 18 day early release papers with the recall papers thus the prison refused to take her back so the magistrate released her. This all took place over a period of three years her license has expired shes had a police check which showed that she is not wantes by either probation or the police. can she still be recalled when she was lawfully set fre by a magistrate in 2010.
morton
- 3-Aug-12 @ 11:08 AM
My daughters dad was out on tag in provided accommodation on Thursday he did breech his tag due to a hospital appt and was recalled on fri at the police station they told him it was because his accommodation had been cancelled. He was due to be untagged on 17th may 2012 so will he get out on 17th or serve 28 days? Or do the 28 days get added to the rest of the sentence? I'm a bit confused
Melm3005
- 2-May-12 @ 3:22 PM
Just looking at the item out on licence it seems that whenever a offender is released its all down to the probation person who is dealing with the case,here is a test case man sentenced to 4.5 years in prison never been in trouble before is being released on licence his probation person has stipulated an exclusion zone which includes this persons home were he is paying a mortage also excludes his daughters address which is some 3miles from his home also exluded his parents home were all the family meet for get togethers and birthdays is this the sort thing that the probation do to help someone reabliltate into society it seems there are 2 types of probation persons 1 who wants to help the offender and 1 who set out to make the offender fail I leave you to make your own decision on thisRegards Mickyb
mickyb
- 4-Dec-11 @ 12:38 PM