Court: Recall on Licence
By: Lorna Elliott LLB (hons), Barrister - Updated: 4 Feb 2020
|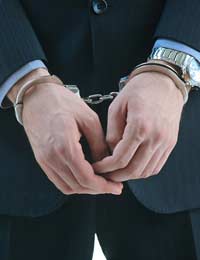 After serving a prison sentence a lot of prisoners are released on licence. There are a standard set of terms that apply to all prisoners released on licence, but more stringent conditions can be set by the sentencing court, the prison, and other authorities.
If a prisoner is released on parole or licence, they will be subject to supervision by their outside probation officer (called an offender manager.) At the point of release, an offender will be given a set of terms and conditions of their licence that they are advised to check before they are released. If an offender fails to comply with the terms of their licence they run the risk of being recalled to prison.
Why do People get Recalled?
Contrary to popular belief, it is not necessary to commit a further offence to be recalled to prison. Although being arrested for a further offence may be a reason to recall a prisoner on licence, this does not automatically mean that an offender will be recalled. Another reason that is often used to recall an offender on licence is if the offender's 'behaviour' makes the offender manager believe that another crime is about to be committed. This is very widely interpreted, and may constitute e.g. drinking heavily or taking drugs, behaving strangely or erratically, amongst other things.
Another common reason for being recalled to prison is for breaching a licence condition. This again is widely defined and can range from failing to attend a probation appointment, being late back for a curfew, to going into an area where you are prohibited from entering by virtue of the conditions of your licence.
How Does Recall Work?
The Public Protection Casework Section (PPCS) of the National Offender Management Service makes the decision to recall offenders. The PPCS is given power to do so by the Secretary of State for Justice. When an offender is recalled, the local police are notified and the offender is arrested and taken into custody (police station.)
What Happens Next?
Offenders who have been recalled to prison will receive written reasons as to why they have been recalled. This is in the form of a 'recall pack'. If the offender disagrees with the reasons for the recall it is possible to make representations against the recall. It is usually possible to get a lawyer to help with this process. Offenders who are not considered to pose a high risk of serious harm to the public will be released after 28 days (presuming they have not been sentenced to further terms of imprisonment in the meantime). At the 28 day review stage, the Parole Board can either decide to release the prisoner immediately, release them at a future date, order an oral hearing, or make no recommendation as to release at all. Other offenders will not be released but the Secretary of State is under a duty to review the detention of recalled prisoners on a regular basis (usually every six months.)
If an Offender is Not Released After 28 Days
In these circumstances, it is possible to ask the Parole Board for an oral hearing at which you can call witnesses and challenge the lawfulness of the recall. The Parole Board does not have to grant you an oral hearing, but may do so if in all the circumstances it is fair to hear oral evidence.
In certain circumstances, the decision to recall may be liable to judicial review. It is always wise to seek the specialist advice of a lawyer before embarking on this course of action.
You might also like...
Hi my partner was released from prison on Monday and was arrested on Tuesday as he's ex partner made a charge against him saying he was stalking her , he went to the police station after her recived a threatening phone call to report her but ended up being arrested as she had already called to make the alligation.He was dropped of this charge but was charged with some other offensive that was before he went to prison. He went to prison for breaking he's bail.So he's got to be seen before a judge today I was wondering does this mean he's broken he's licence as he's been re arrested or because it was before he's licence will it not count ?
Lizzi
- 9-Jan-20 @ 6:59 AM
I'm on license for abh but I might get charged for a theft charge will I get sent to prison or be recalled
Can somebody be recalled because of excessive speed ticket which leads tootring offens
Ali
- 29-Dec-19 @ 8:41 PM
My partner was on recall til next May,he was arrested for carrying a knife how long will he be sentenced for.
Maggie
- 7-Dec-19 @ 7:48 PM
Hi boyfriend has been recalled for no reason what will happen now
Blewog
- 3-Dec-19 @ 8:11 PM
Hello my partner has been recalled for breaching his license it has gone to parole and they have now decided not to release him after 28days because they want an oral hearing with him, hes on standard recall how long does parole board having to do an oral hearing? He also has court on the 16th of this month can the court override parole and release him if they think he is fit enough to be released in society.
Liljods
- 3-Dec-19 @ 5:48 PM
Hello I got with my partner just as he was wanted and I lost my grandson and my partner was like a grandad to him and we got a call to say my 4 month old grandson has passed away and we when to the house to find he was already dead and my partner tried CPR and no luck and he was scared to go back to jail as he was worried about me as I tried to take my life after that so he was on the run for a year then he got caught and had a year left on his licence but only made to go 28 day but they kept him on remanded for other crimes and due in court in December do you thi k he will get bail or tag as I have 3 boy with mental health and he been our rock he tried to turn his life around since he meet me but his past has come back to bite him in the arse and now he paying the price he a good bloke and not done crime since been with me but because he was running for a year I dont feel he get bail or tag but he had his reason to run
Louilou
- 20-Nov-19 @ 9:06 PM
Hi my partner has been recalled for being arrested for fighting but no charges have been brought i recieved a letter saying he doesnt have to anser to bail or anything is there a chance he could be released
Deeebz
- 10-Nov-19 @ 6:36 PM
My partner got recalled to prison in 2017 for a driving offence it's he's first driving offence and he had a 3 year licence what he's doing now he's been in now 30 months he's release date is 17 th July 2020 he's parole hearing is in January it's an oral hearing and the inside probation have been to him this week asking if he would be willing to go in to a hostel he said he's never had them come and say that to him before on any of he's other sentences he's got 8 moths left 6 if he doesn't get he's parole , does anyone no if it sounds like he's going to get it also he's never been aloud an oral hearing until now . Thanks in advance
Nays
- 2-Nov-19 @ 11:15 AM
Hi anyone have any answers please,my partners on life licence and has been recalled bk to jail for dangoures driving does any1 have any clues to how long he could get inside?????
Sr
- 22-Oct-19 @ 12:36 AM
hi my partner was recalled for breach of his licence he went back to hostel an hour late, they never give him w eny written warning just recalled him out of hours, his been in now for 11 week his not had no release date or a perole hearing he was out on license and still has 2 year left on it. his offender manager has says she thinks they just keeping him in to monitor his mental health?? is this even possible and when is the likelihood he be released ?? thanks
roxie
- 11-Sep-19 @ 10:42 AM
Hi my partner was recalled on licence for defending himself (self defence) but was found guilty and sentenced to 12 weeks, also had 2 year licence left. How long is he likely to do in prison if he does all the courses and changes as much as possible?
Hobs
- 4-Sep-19 @ 9:24 PM
My man was on life licencehe threatened someone with a weapon .he was bailed by the court but because he was on life licence 20 year preiously .he was recalled got a knock backfrom the parole board..and is waiting court case any ideas if he gets 5 year will it be up to the board when he gets out of prison or can he be released when his 5 year is up
Sheba
- 27-Aug-19 @ 6:51 PM
my partner was recalled for not going probation and he cut his tag off for a week...his release date is today but his licence is till February it went to the parole on the 1st hes done about 8 weeks recall what the chances off him being out today thanks
gem123
- 6-Aug-19 @ 6:17 AM
If i breach my licence condition can the probation send me back to jail straight away?
Atiq
- 31-Jul-19 @ 8:04 AM
How many times can you be breached before you go to prison
Craycrsy
- 26-Jul-19 @ 1:00 AM
Hi I've got around 5 months left on license and I think I may have been caught speeding via a mobile speeding van I was in a world of my own after an argument with my partner I drive sensible but that day I think I may have messed up if so is it possible I could be recalled? Driving is not the reason I went to prison, thank you
Boo
- 21-Jul-19 @ 9:50 PM
Hi who shall I write to regarding my partners recall and his mental health
kowala
- 16-Jul-19 @ 5:48 PM
If someone displays bad behaviour through malicious communication is this a recall offence ,if So is it a standard recall offence or not?
smokeyj
- 18-Jun-19 @ 4:04 PM
Hi how does it go if someone is on licensetoaddress but is staying somewhere else .
Tilly
- 25-May-19 @ 4:17 PM
Hi my son got recalled but his case got discontinued nd he is still in prison how long can they keep him there he should ov been released they have nothing on him
Mandy
- 16-May-19 @ 4:37 AM
My boyfriend Andyreader send back prison because relcellin Feb and done get out to 10/12/19he never 3mth on topway can't him have taken. Could some tell way send prison,
Jane
- 13-Mar-19 @ 9:13 PM
My bro was sent to prison cause of domestic violence and criminal damaged He had 12 weeks to 6 weeks After he was released he had to attend probation until his licence has finished He has missed two appointments and he has been recalled How long will he be in prison for
Flee
- 3-Jan-19 @ 2:03 PM
if a peadophile is in prison serving a 28 year (14 years to run concurrent) release date 2020 he wont admit hes done wrong does he still get released?
Annie
- 20-Dec-18 @ 9:56 PM
My son as been recalled and will hand himself into the local police station today! Will he go to the same prison he was released from for the remaining of his sentence ? Thankyou
Wigan
- 21-Nov-18 @ 11:42 AM
A freind of mine has been prison for 18months for drink driving, dangerous driving and aggravated twoc..If He was recalled off probation would he get a standard recall or fixed term recall?? And no further offence was committed!
Been re called for 28 days missed court today for what I was recalled for criminal damage any ideas the score I'm still waiting on police to arrive and get me
Cro
- 18-Oct-18 @ 4:50 PM
Hi ,could you give me advice on my article please ,rash 5 October 2018
Rash
- 12-Oct-18 @ 9:40 PM
Hi,my son was recalled july 2017 with further charges his charges were dropped March 2018 ,having suffered in prison regards them charges ,he was told he would get released,,I have been having many issues with the probation worker or: her not engaging with him in a positive way helping towards work training !! who personally taking his charges personally although he has no charges left & has outline her conditions for oral hearing which are extreme,suggesting if released would 1-2 myths after hearing for bail hostel , in my opinion & other associates I've spoken to ,his licence ends july 2019 ,we did complain before and asked for a new probation worker but was rejected ,I just wanted to know why all this when his got no further charges .
Rash
- 5-Oct-18 @ 4:14 PM
My partner was recalled last wensday and he handed him self in to police would he only serve his 28 days I just never been in this situation before
Shelley
- 6-Sep-18 @ 3:41 PM