Court: Recall on Licence
By: Lorna Elliott LLB (hons), Barrister - Updated: 15 Apr 2017
|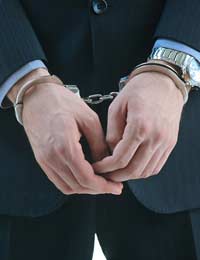 After serving a prison sentence a lot of prisoners are released on licence. There are a standard set of terms that apply to all prisoners released on licence, but more stringent conditions can be set by the sentencing court, the prison, and other authorities.
If a prisoner is released on parole or licence, they will be subject to supervision by their outside probation officer (called an offender manager.) At the point of release, an offender will be given a set of terms and conditions of their licence that they are advised to check before they are released. If an offender fails to comply with the terms of their licence they run the risk of being recalled to prison.
Why do People get Recalled?
Contrary to popular belief, it is not necessary to commit a further offence to be recalled to prison. Although being arrested for a further offence may be a reason to recall a prisoner on licence, this does not automatically mean that an offender will be recalled. Another reason that is often used to recall an offender on licence is if the offender's 'behaviour' makes the offender manager believe that another crime is about to be committed. This is very widely interpreted, and may constitute e.g. drinking heavily or taking drugs, behaving strangely or erratically, amongst other things.
Another common reason for being recalled to prison is for breaching a licence condition. This again is widely defined and can range from failing to attend a probation appointment, being late back for a curfew, to going into an area where you are prohibited from entering by virtue of the conditions of your licence.
How Does Recall Work?
The Public Protection Casework Section (PPCS) of the National Offender Management Service makes the decision to recall offenders. The PPCS is given power to do so by the Secretary of State for Justice. When an offender is recalled, the local police are notified and the offender is arrested and taken into custody (police station.)
What Happens Next?
Offenders who have been recalled to prison will receive written reasons as to why they have been recalled. This is in the form of a 'recall pack'. If the offender disagrees with the reasons for the recall it is possible to make representations against the recall. It is usually possible to get a lawyer to help with this process. Offenders who are not considered to pose a high risk of serious harm to the public will be released after 28 days (presuming they have not been sentenced to further terms of imprisonment in the meantime). At the 28 day review stage, the Parole Board can either decide to release the prisoner immediately, release them at a future date, order an oral hearing, or make no recommendation as to release at all. Other offenders will not be released but the Secretary of State is under a duty to review the detention of recalled prisoners on a regular basis (usually every six months.)
If an Offender is Not Released After 28 Days
In these circumstances, it is possible to ask the Parole Board for an oral hearing at which you can call witnesses and challenge the lawfulness of the recall. The Parole Board does not have to grant you an oral hearing, but may do so if in all the circumstances it is fair to hear oral evidence.
In certain circumstances, the decision to recall may be liable to judicial review. It is always wise to seek the specialist advice of a lawyer before embarking on this course of action.
You might also like...
My son has recall as i threw him out he was permitted by a member of probation ro stay @ my neice is homefor night & tried to find a dwelling next day but no luck so he returned home & i informed local police of this but next day he was sent down on recall for how long i dont know as probation not giving me any answers
Sause
- 15-Apr-17 @ 5:19 PM
Hi i would like some advice my son got out august 2016 was put on a curfew for first 3 months of release then the police turn up and say they have intelligence he has being active this is after hes being out 7 months he has not being charged with anything else so cos of this so called intelligence they put him on another 8 oclock curfew and last week they arrested him for breach of curfew so since he being sent back to prison hes received no paper work as yet on regard to this and im wondering whether it will be 28 day recall or til his licence ends february please help would like to know whether this is justified thanks X
Nicksterr
- 9-Apr-17 @ 7:23 PM
my boyfriend got recalled last november but it was for somthing through no fault of his own he was protecting me , i am his girlfriend. he was seen taking a knofe of me because i was self harming after getting mysef in a state . but because its a harmful wepon and him being on liscense anyway as he took it off me although he wa sonly helping. he ended up being recalled because of it. he is still in prison now and got accepted for a hearing or parole a while ago but has sill not been given a date yet and im really worried that hes not gonna be out soon ??
dannii
- 6-Apr-17 @ 12:55 AM
Hi Doris, Did you partner appeal his recall? Same thing happened with my partner just been recalled last week after being in for a 28 day recall. The hostel was full of sex offenders and he didn't want to stay there so they recalled him for the remainder of his sentence. I wonder if anyone has appealed and been successful?
Sab
- 13-Mar-17 @ 12:57 PM
My partner was let out on licence in Feb and was placed in a hostel full of druggies, he did try and stay there but found he wasn't able to, so he went on the run ( he is a idiot ). He's since been caught and will be returned back to prison but how long will he have to serve? will he do 28 days or will he have to serve the rest of his sentence which was until May?he is deemed to be a high risk offender.
Doris
- 2-Mar-17 @ 6:59 PM
Hi my boyfriend got out of prison last September and he is on lience till January 2018 while he was out in December 2016he got recalled for 28 days and got out in January 2017 then in February 2017 he got locked up for 3 burglarys went to mag court and got 44 weeks now I want to know if the 44 weeksstarts from today which takes it to July cause he does half does he stay in till is lience is up in January 2018 or does he have to start the 44 weeks prison sentence after his lience
Caz
- 17-Feb-17 @ 10:37 PM
Hi my partner has recently been sentenced to do 42 days he onky served 21 days and was then releast on licence and on probation he missed 2 appointments with probation as he was really ill at the time. Probation brought him back to court and hes now been given 14 days. Will he have to do the 14 days or is it possible for him to do half and be releast in 7 days?
snailey
- 11-Feb-17 @ 10:42 PM
My boyfriend got sent to prison then missed he's sons birth by 3 days got out on license 8th November he stuck to he's tag done so well untill police banged down my door sayin there arresting him on suspension of armed robbery and he hasn't done it so they have pit him on remand untill tomorrow, which is in crown court he's probation has sent or recall papers he's now got in there with him iv have got evidence he hasn't committed this crime and also managed to get CCTV to what he was doin the time the bank had got done he's solicitor also said its not him an I'd parade was put in place j someone from bank picked out someone n not my boyfriend when will they fine him not guilty we have. A three month old son together n he's duin time for something he hasn't done
bungle
- 30-Jan-17 @ 2:14 PM
my son as been recalled for breaking is licence conditionsbeing out of is boundry also was arrested but not chargedand then straight recalled he doesnt pose a high riskbut as history of breaking licence conditionswill he be released in 28 days or serve the remainder of is time in jail n daz
joe joe
- 28-Jan-17 @ 2:58 PM
My boyfriend was released from prison last april. He's a mappa 2 and on licence until 2019.He has been doing really well and they said that he has been the biggest success story in herefordshire, for how well he's been doing. Thursday night he went out.. next thing a couple of hours later,police are at the door arresting him for burglary. They searched the room and found no evidence of any of the items that the druggie had said he had took. They took him to police station and released him on bail with a negative drug test. He's now been recalled but the druggie that called the police had done a runner that night so no statement has been given. What does this mean? Does he get released after 28days? As he hasn't been charged for it.
aim
- 25-Jan-17 @ 2:22 AM
Hi. My partner got released in October 2016 he's on licence for another 12 months. He got arrested 2 days ago on suspicion Of twoc what had ment to have happened before Xmas. (Although another lad got found guilty of it and has already been sentenced.) my partner was put before court yesterday for bail but wasn't granted it and Probabtion didn't want to recall him either so the judge remanded him for another 6 weeks for the court date. Does this mean if he's found guilty he will have to serve the rest of his licence seen as he's not been recalled. Any help or advice much appreciated. Many thanks.
Juice
- 21-Jan-17 @ 11:06 AM
Jamielee- Your Question:
I'm on license and I was arrested for drunken disordly I was given a court date and I've missed it, will I be recalled because of this?
---
Our Response:
If you fail to appear in court when ordered, the judge can issue a warrant for your arrest.
CourtroomAdvice
- 17-Jan-17 @ 2:30 PM
I'm on license and I was arrested for drunken disordly I was given a court date and I've missed it, will I be recalled because of this?
Jamielee
- 16-Jan-17 @ 11:57 PM
kmc - Your Question:
A friend of mine has been recalled to prison following a recommendation from his probation office, this was because of a failure to reside breach however, his hostel have confirmed 100% attendance unless previously agreed for work and christmas. what can we do for him? can we seek free legal advice for him? how do we do this and where can we get it?Thanks :)
---
Our Response:
Please see the CAB link
here
which can provide free, impartial advice.
CourtroomAdvice
- 16-Jan-17 @ 12:34 PM
a friend of mine has been recalled to prison following a recommendation from his probation office, this was because of a failure to reside breach however, his hostel have confirmed 100% attendance unless previously agreed for work and christmas. what can we do for him? can we seek free legal advice for him? how do we do this and where can we get it? Thanks :)
kmc
- 15-Jan-17 @ 6:35 PM
I am a out on license. I have a year left for this license. I was arrested for some alleged fraud and bailed and due to return to police station in few months If I am charged for the offence will I get recalled there and then at the police station. And also I will be going not guilty for the charge will that mean I will be in prison whilst awaiting trial
Jon
- 10-Jan-17 @ 3:41 PM
Hi my partner is in prison waiting to be sentenced next week. He got found guilty on a section 18. But he's on licence for a previous section 18 and only had till Feb 2017 for it to end. He never got recalled, so when jury found him guilty he couldn't have bail cause it was a section 18. How long is he looking at would you say as he's not been told nothing probation went to speak to him but barrister refused a prison visit and said he will speak to him the morning before court.
Angel
- 11-Dec-16 @ 7:11 PM
My partner due out on license on Monday he was with a probabtion office for 9 months and asked for almost 4 months to be changed to another office where he was residing the probabtion never changed office kept saying doing a few more weeks and we will refer you over which never happened when went to court he told the court his address where he was residing for almost 4 months now his due to be released the new probabtion in the area ask to do a home visit to see if I was happy when coming out they have said because I called the police few months previous on pestering phone call he made even tho he wasn't charge and warned to stop call and he did and since the call live back at the address which probabtion are Aware of they are now saying he can come in the day but not stop at night can they do this they are saying because they has been social service 10ys ago that's the reason even tho his never been charged for hurting me or the children can I fight this with probabtion
Bev
- 10-Dec-16 @ 2:02 PM
My ex partner is on licence and has heavily struck our child due to wich social services are now involved will he be recalled?
Jeni
- 7-Dec-16 @ 10:56 PM
Hi my boyfriends probation officer phoned to confirm address with me n sed he was due to be realised was passing it on to his own town probation n hes not erd iv rang n sed she doesn't no owt I can do ?
mary
- 1-Dec-16 @ 5:55 PM
My husband is being released on licence in 10 days. He is being placed in a hostel because Shelter informed his probation officer that he would be homeless. I was renting a room in a shared house while he was serving his sentence but moved into an apartment at the start of November. I want my husband to live with me but we have been told he will have to stay in the hostel for at least a month. It isn't part of his license conditions, so is there any way to appeal the decision? He is coming out to some significant debt and I am not especially well off, which is worrying us both.
Milly
- 27-Nov-16 @ 7:05 PM
my ex partner now friend was recalled to prison for an offence which he got found not guilty but is still in prison how long will i take for the courts to send paper worker over to prison as that is what they need before they can decide weather to release him
niki
- 22-Nov-16 @ 12:18 PM
My baby father got out of prison over a year ago and was getting him self back on track doing things right and then in June 16his other baby mum who is very malicious and is trying to ruin his life got him sent back to prison and lied so he got sent back on a recall and he could go down for a minimum 5 years because he's gone not guilty (which is the right thing) he's been asking ever since he's been in Prison for his recall pack from numerous officers,numerous times and they have said they haven't got them and that nothing on them system is showing he's on a recall. he see a probation officer from in the prison and he said he doesn't feel he's been given a fair appeal and would get back to him but everytime he's asking to speak to someone there's never enough staff, he's not getting anywhere. he's put in loads of complaints and they never get back to him, Then it was only the other day he spoke to an officer and they said he's recall pack has been there since July? He's court date is In December, his baby mother has recently said she's not going to go to court. When he was out before this happened he was always going to probation, he has evidence when he goes to court of the allegations she's saying are not true, what are your answers on him getting out of prison straight away given he hasn't had a fair appeal and that if he gets found not Guilty? Thank you
Aaaa
- 19-Nov-16 @ 11:57 PM
my son got arrested over silly row he not guilty of anything he got bail then 4 days after police turned up and hook him straight to hmp?? He shud of been in court the prison didn't take him? ?? Court didn't even no my son us on recall .. Something seems dodgy threw probation
poe
- 19-Nov-16 @ 1:13 AM
Hi. I have been on license for Robbery for a period of 3yrs 3months after completing 3yrs 3months in jail. I have never been in any other trouble since and have been described as a model to others by the probation service. I have worked full time since release and I am reporting every month. I had a number of home visits when first released and all was deemed to be well. I have mad a mistake by moving out of the address around six months ago to live with my girlfriend who I shouldn't be associating with. I didn't tell probabtion. Recently my new offender manager said she wanted to do a home visit and I have been putting her off saying work commitments but now she is insisting and I am going to have to tell her. Thing is I only have 10 days left on license. Realistically am I going to be recalled for a period of 1 week?? Or what do you think will happen?? Thanks
Rik
- 18-Nov-16 @ 1:29 PM
Sally - Your Question:
Hi my son was released from prison 5 days ago , he has not commuted any crime and been in touch with his probation officer , he was staying at a friends house that probation had approved , but he felt uncomfortable because of a minor argument and stayed at his girlfriend and gave probation the new address , but he has been recalled to prison today cos he stayed away one night , is there anything we can do ?
---
Our Response:
No, there is nothing you can do because your son has broken the terms of his licence. He will face one of the three punishments outlined in the article, and listed in more depth
here
.
CourtroomAdvice
- 18-Nov-16 @ 11:02 AM
Hi my son has been out on licence , A man accused him of hitting him , went to court 5th september and they bailed him ..Until trial date 4th November. Since then probation recalled him four days after the 1st hearing . Apparently they done a recall on 7th , he didn't know , but arrested him at home on the 9th. He didn't get a recall pack ...but signed a piece of paper that they showed him saying it was a standard recall 4wks later. He has just found out this week that was his recall pack and not expand he had 10 days to appeal as they took all the paper work away The prison didn't send him to court on 4th Nov for his trial. The court didn't know he been recalled as not had informed them , the court still thought he was out on bail The claimant didn't even turn up . He had good job , which has now gone And the trial still would Ave went ahead without the claimant Vital cctv missing ..my son's solicitor was looking to get it thrown out . New trial 16th Jan Who should have informed the court he was recalled cause his probation passing the buck saying not them ... Look forward to some answers thank you Dee
Dee
- 17-Nov-16 @ 6:21 PM
Hiya my boyfriend was release 2 months ago on licence for 6 months. The neighbours called the police but the neighbours started the argument. Hes now been bailed for one issue and court tomorrow for the other as the witness statements are different. If he gets not guilty does he still get recalled?
Becca
- 17-Nov-16 @ 2:31 PM
Hi my son was released from prison 5 days ago , he has not commuted any crime and been in touch with his probation officer , he was staying at a friends house that probation had approved , but he felt uncomfortable because of a minor argument and stayed at his girlfriend and gave probation the new address , but he has been recalled to prison today cos he stayed away one night , is there anything we can do ?
Sally
- 17-Nov-16 @ 1:49 PM
Jojo - Your Question:
Looking for a bit of advice please,my partner was giving a life sentence in 2004 of a minimum 11year to serve he was released in 2015,,got into a bit of trouble was recalled back to prison and charged with serious assault there's camera evidence to prove all the injurys werent caused by my partner he's now in prison,,going out of my mind with worry as iam unsure of how long he's gone to get any help would b grateful thanks
---
Our Response:
I'm afraid there is little help we can offer here as much depends upon how much evidence is collected and what the court decides. You may wish to call the Offenders' Families helpline
here
if you need to speak with someone directly.
CourtroomAdvice
- 15-Nov-16 @ 1:41 PM