Pleading Guilty and the Courts
By: Lorna Elliott LLB (hons), Barrister - Updated: 8 May 2018
|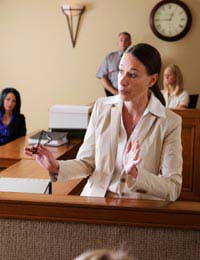 If you are thinking about pleading guilty to an offence, you may wish to seek the advice of a solicitor first. It could be that you should be pleading guilty to a lesser offence, or that you need to have the likely implications (i.e. the sentence) spelled out to you first. A solicitor may also help you to put across your side of the story, which could also have an impact on the likely punishment that the court gives you.
Credit For Guilty Pleas
In most cases, if you plead guilty to an offence you will get a lesser sentence than if you are found guilty after a trial. Depending on the stage that your case has reached when you enter your guilty plea, you can get a discount of up to one third off your sentence. This applies to fines, community orders and sentences of imprisonment.
Newton Hearings
In some cases, if the facts of the prosecution case differ substantially from your version of events the judge may order a 'Newton' hearing. This is in effect a trial that determines the facts even though you have pleaded guilty on a limited basis. For example, if you agree that you committed section 20 GBH (wounding) but not that you did it with intent (which is section 18 GBH) then the judge may decide that you need to have a trial to determine whether or not you had the requisite intent to satisfy the elements of a section 18 offence. Most lawyers will advise against Newton hearings as it is difficult to obtain a good outcome.
Basis of Plea
You may instead be advised by your lawyer to plead guilty 'on a basis.' This is a document that sets out the facts that you are prepared to agree to, and is signed by you and your lawyer. If the prosecution agrees to it, then the prosecutor will also sign it. If not, you can still submit a basis of plea and give it to the judge but it will not have as much weight if the prosecution refuses to sign it.
Convictions
Once you plead guilty, you are 'convicted.' This means that you may be put on 'judge's remand' pending your sentencing hearing. This is different to being on normal 'remand'. A remand prisoner is an un-convicted prisoner. A prisoner on judge's remand has pleaded guilty but has not been sentenced yet.
Types of Sentences
There are lots of different types of sentences that the court can give you, from an 'absolute discharge' which means no punishment at all, to a life sentence. There are also conditional discharges, fines, community orders, curfews, intermittent custody and imprisonment, to name a few. You may also be 'bound over' to keep the peace, or if you admit guilt in the police station you could be given a caution, which will stay on your criminal record but will mean that you do not need to go to court.
If you are in any doubt about whether you should plead guilty or not, you should seek legal advice. You may be entitled to legal aid to pay for your representation, but this will depend on your financial circumstances. Again, a solicitor is the best person to advise you on this.
You might also like...
May I need to get bail before appearing in the court. Police charged me section 39. My wife complained to police they kept me in their custody for few hours and conditionally released me not to contact wife and not to go home and bind me appear before court... what will happen next I have no idea..
I have been charged with assault of a police officer following a domestic argument. I tried to run upstairs to talk to my partner and was put on the floor and pepper sprayed. I believe i kicked with my legs at the shock and pain of being sprayed and maybe caught the officers feet with mine. All charges were dropped the next day and i went home. 3 weeks later i received a postal requisition and i have to appear in court for something that was dropped. What will happen if i plead guilty, can i explain how it happened?
Striped121
- 30-Apr-18 @ 7:57 AM
Hi My brother has been charged possession of knife which is 5"blade named as locking knife, given to him as gift by his friends for go on trekking. On night he had his in trouser while the police officer search him. He ready plea guilt because he doesn't knew that rule because he is only been into the country for less than 10days. He came to UK jan 29th and charged on feb10th. Please guide me what to do on the hearing and how to plea guilty to avoid any sentences that could cause his stay in this country while studying. Thanks
What is the meaning of pleaded not guilty to the offence.The case has been adjourned to br sentench.
imamraza
- 3-Mar-18 @ 1:45 PM
I've never been in any trouble before , I was arrested and charged with an offence -it has only come to light now that I could / should have been given a reprimand but this was never offend to me at the time. I've now been to court and got to back. for a second timedue to lots of facts being different from the CPS case- and the dates of the charges have now changed 3 times & the defendant's story has also on changed on several parts. Where do I stand ? is there anything I can do.Because it's likely to cost me my job, which will then effect where my kids live with their mum as I pay the total cost of the house and I no longer live with them and have to pay to rent a room
all at sea
- 13-Jan-18 @ 11:06 PM
Tom - Your Question:
My wife attacked me and I retaliated and have been charged with gbh and it is going to crown court will I go to prison for this
---
Our Response:
It is impossible to anticipate as all will depend upon the charges. For instance, Section 18 GBH assault is the more serious charge if it can be proved the defendant had full intention to cause serious bodily harm. This can only be tried in a Crown Court. Sections 18 and 20 carry different maximum sentences - your solicitor would be able to advise more regarding this.
CourtroomAdvice
- 11-Jan-18 @ 3:28 PM
My wife attacked me and I retaliated and have been chargedwith gbh and it is going to crown court will i go to prisonfor this
Tom
- 10-Jan-18 @ 10:46 PM
H - Your Question:
My partner assaulted me and was arrested after a prolonged attack. he pleaded guilty at the magistrates court. and is waiting sentencing. do you think he could go to prison or hopefully suspended sentence
---
Our Response:
We cannot determine what a court may decide. You can see more via the Sentencing Council definitive guidelines link
here
.
CourtroomAdvice
- 8-Jan-18 @ 3:54 PM
My partner assaulted me and was arrested after a prolonged attack .. he pleaded guilty at the magistrates court.. and is waiting sentencing.. do you think he could go to prison or hopefully suspended sentence
Hi My partner has been done for fraud working under fake ID and also deception under the immigration act. Now the judge has said there is loads of evident that she is guilty and he is willing to give 25% off her sentencing, what jail term is someone likely to face in this situations?
Fast carz
- 6-Jan-18 @ 3:24 PM
A man tried to steal my sons bike off him.In the struggle the man jumped over the bike onto the bike tool my son was holding a one inch long tool on a multifunctional. The male received a puncture wound to the chest and reported it.My son took bike and rode off scared. Son is adult male.Now being charged with sect 18 wounding.Been advised to plead guilty to sec20 wounding.He has done this but worried as he was victim of robbery where his assailant was accidentally wounded.No witnesses.
Sue
- 31-Dec-17 @ 11:24 AM
Got arrested yesterday over section 39what's all happening my first court HearingAnd 1st I am not Guiltycan anyone please help me I am a 21 years old I amvulnerableadults with mental health problems
Jonesy
- 29-Dec-17 @ 2:18 PM
Han - Your Question:
My partner was sentanced to 3 years. Do 18 months, how long does he have to do until he can have tag?
---
Our Response:
You can see more via the Offenders' Families helpline via the link
here
which will explain more.
CourtroomAdvice
- 5-Sep-17 @ 3:14 PM
Eas held for 3 hours wothout being offered a drink by the police before queztining so i answeted their queztions 8n a lot of detail just to get out off yhere so gcoyld get home and a full.2.5L bottle of pepdi i was cgarged woth two offences from what i said could that be classed as a false confesssion or a forced one. I plea guilty cuz i regret what hapoened i had not seen my little sister since ahe was adopted and was never told of the risks of gsa by the staye should i still be punushed for what happened sex with a fanily membet ubder the age of 18. She was 15 at the time i was 21 emotions runni g wild 50% of reunions end up going into the gsa moment genectic sexura attraction
Slashertheclown
- 2-Sep-17 @ 6:38 PM
My partner was sentanced to 3 years. Do 18 months, how long does he have to do until he can have tag?
My son threw a glass and accidentally hit a guy on forehead he doesn't remember doing so but he has admitted to police because he is terrified their is no evidence on CCTV or from anyone in bar or bar staff only the person that got hurt and his girl friend.what charges is he facing?
Maglinchy
- 8-Jul-17 @ 5:19 PM
Hi, I am just wondering where I stand 'conviction' wise, I have got a conditional discharge from 1999 from when I was 17 assault on police officer section 89 and a caution from 1997 when I was 15 section 47 (school girl fight) I also got in to a drunken fight when some girls set upon me about 12/13 years ago, I cant remember what section it was but I was given a 12 month binding over and never been in trouble since, I want to go on holiday to America but not sure how I stand with it all, help is appreciated.
Lel
- 24-Jun-17 @ 9:37 AM
My ex partner assaulted me in front of our children. My eldest son made a statement and my ex was changed with common assault. He pleaded guilty but his version is he threw something at me when in fact he kicked me in the face and punched me multiple times. It's caused a huge rift with the families as his parents believe he just threw something at me in anger when in fact it was an attack which lasted more than an hour. I had multiple bruising to my face and body and both children told police they saw him kick and punch me. My ex pleaded guilty and got 12 months community order, fines and me and my eldest have a permanent restraining order against him. I was glad of the outcome however still feel justice hasn't been done as he continues to lie. Can anyone advise me?
Laujones
- 25-Feb-17 @ 11:38 AM
I pleaded not guilty to drug driving and was given court bail as I missed the date and handed myself into the police station afew days later. I couldn't make the time when my Solicitor called me at 12pm, but advised that the Prosecutors have agreed if I make it before 3.30pm on the same day they wont issue arrest warrant. I went at 2.30pm but my Solicitor had left and the court do to a case at another court. The Court Usher told me I have been issued with Warrant for my arrest. This was 3 months ago. I had an important job interview to go to and it lasted longer than I expected. Will I be remanded? Thanks in advance
TonyT
- 22-Feb-17 @ 5:47 PM
Over 31yrs ago,l was sentenced to 2mths prison for fraud but l was only in prison for 1wk as my solicitor got me up in front of judge and l got a suspended sentence and l wish to know will it b filtered as l thought it was as l have never been in trouble since also l worked in carehome 10yrs ago and my DBS came back as ok and l am applying fore homecare and they are doing DHS will it b ok
Toffee
- 28-Jan-17 @ 1:59 PM
@No body -it's down to if it was used for personal use or whether the police and CPS can prove you were dealing it. If they can prove you were dealing it then you may not escape prison.
Tommo
- 17-Nov-16 @ 11:14 AM
Caught with 5oz of canabis in the house scales bags and 2 books with names eny one know if we could escape jail time for this
No body
- 16-Nov-16 @ 1:33 PM
If my soliciter says I should plead guilty but I didn't do it and I feel I am being misrepresented can I try and find a new soliciter ! I have to put my plea in in 7 days and I am worried I won't have new represention in time . If I don't have a soliciter will I still. Be required to plead on that day ?
Sal2509
- 13-Oct-16 @ 10:32 PM
I have been under investigation at police st.for sexual abuse to a downs syndrome man I cared for.I have denied the accusations because it is absolutely untrue.There are a group of women who are manipulating and scheming to get me into trouble. I dont feel I have a chance. I am feeling I will admit to something I have not done so I and this poor man do not have to go to court. I am so upset and angry with the lies that have been made up about me. I cant take it
June
- 24-Sep-16 @ 8:45 AM
Hi trying to find out I had 11 days of a suspened sentance left when does it come in to action is it once I go to court for frist time I pleaded guilty that day but don't know if it is broke from the day of the offence or once I plead at court
Disco
- 20-Sep-16 @ 3:20 PM
Hi av been arrested on 24th of August Wednesday for the first time in my life because they say i been attempt to meet a girl under 16 but i have never seen and met this girl and plus they have evidence of me texting this girl but that girl didn't save the message of what she sent me but I deleted and blocked this girl because she lied about her age and her messages and the police seized my phone and i want to know when will i get it back av been releised on bail conditions and due back in court for the first time in my life on November 30th Wednesday what will happen to me because av never been arrested in my life
innocent lad
- 6-Sep-16 @ 1:32 AM
Me and my wife, have been found guilty of pushing my teenager daughter, in which seeing that at the time she was un rule and was swearing in my face, and over step the bounderes, I just gave her a slight push. And seeing that she was threatening to tell the police her version, I decided to go to the police, to make a statement, in which I did. A month went by, and the teenager never went to report the incerdent, but on one day, when I went to pick up the small children, and we went to the bus stop, I notice to my wife that the teenager girl was at the front of the bus waving to her two young sisters, in which we was drawn to the bus, thinking that the girl was on the bus, and giving the chance for my wife talking to her daughter, when I will be sitting at the back of the bus. But what was mst shocking was that my wife teenager daughter was sitting next to her ex partner who was charged in 2016, of assaulting my wife. And was gloating me and my wife. Time has alasped and we have got a police officer calling to our home, in which we was told that a alergshion has been made to say that my wife has attacked him. And he is using this in a family court. So my question is this, can he get the judge to order, for him to see his kids in a controls contact centre?.
johnny
- 3-Aug-16 @ 9:06 PM
Hi, I was released from the police station quite quickly because I pleaded guilty to 2 charges of common assault that I caused at hospital A any E because I was having a episode because I suffer from epileptic episode's. But at the moment I am on a 18 month suspended sentence. What is the likely that I'm going to be going to prison?
Lukey
- 31-Jul-16 @ 11:52 AM
my friend has been charged for gbh as a burglar was in his house and the burglar was aminor that came through the ceiling will my friend be fined or locked up as the community also bashed the intruder and was in a bad state
adele
- 17-Jul-16 @ 1:01 PM
Hi, I was released on police bail and part of the conditions were not to contact 2 people but one name is spelt wrong and they have got the first name on the other wrong, plus they forgot to get me to sign it. My question is this still a legal document. Thank you.
Boottroop
- 10-Jul-16 @ 2:45 AM