What Happens at an Immigration Hearing?
By: Lorna Elliott LLB (hons), Barrister - Updated: 24 Jun 2017
|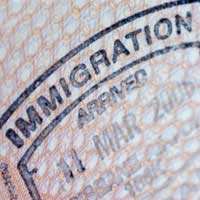 An immigration appeal is heard by one or more judges in a number of locations in the UK. There are no juries in immigration appeals tribunals. Judges are legally qualified, and there are sometimes other members of the tribunal (non-lawyers) who also hear appeals.
An Immigration Hearing
An immigration hearing is held by way of an appeal once an application has been made and refused. This may be because of a prior:
refusal to allow someone entry to the UK
refusal to give someone leave to remain in the UK
refusal to allow someone asylum in the UK
refusal to the Asylum and Immigration Tribunal
decision to deport someone who is already in the UK
Types of Hearings
There are two types of hearing, the Case Management Review hearing (CMR) and the full hearing. A CMR is only held in the case of country asylum appeals and cannot be adjourned. If you do not have your own representative it is very important that you attend your CMR because if no one attends the judge may decide to determine your case without a full hearing. If you need an interpreter to translate the proceedings for you, you must let the tribunal know in advance so that they can arrange one for you. If you have a legal representative they should be able to arrange this for you. Tribunal Service interpreters have more rights than other interpreters, so for obvious reasons they are a better choice.
What to Expect
You should arrive at least 20-30 minutes before your hearing date. When you get to the centre for your appeal there will be a number of cases listed for hearing at the same time. You may have to wait some time before your case is called on, but the clerk of the court will be able to give you an idea as to how long you will have to wait.
It is important to have some money with you in case you want to buy drinks or refreshments, although you will usually be provided with water in the hearing room once your case has been called on.
The hearing is usually held in a room with desks and chairs. It does not look like a traditional courtroom, like the ones normally used in television dramas. The judge(s) sits at the front of the room at a desk or table and the other people sit at tables and chairs in front of him. The Home Office representative (the respondent) will usually sit on one side of the room, and the person appealing (the applicant) and his or her legal representative (if they have one) will sit on the other side.
If you require an interpreter they will sit next to you. An interpreter must interpret the proceedings fairly and without bias. They will give their translation of the proceedings to you in a low voice or whisper during the proceedings, either while people are speaking or after a statement has been given. Any witnesses will be called into the room to give evidence as and when they are required. They are not allowed to hear the proceedings prior to giving evidence, and can only remain in the hearing after they have given evidence with the permission of the judge. As hearings are in public, there may be members of the public and very occasionally journalists present in the room too.
The Decision
The judge(s) does not decide whether or not your appeal has been allowed (successful) or dismissed (unsuccessful) at the hearing. You will be informed as to the outcome of your case in writing. If there has been an oral hearing, this will be within two weeks of the hearing date. If the appeal was on paper only, the decision is sent approximately two weeks after the hearing.
Appealing the Judge's Decision
There is no general right of appeal although both parties, either the appellant or the Home Office, may be able to make an application for judicial review. This is a review of the case on the basis that the judge got the law wrong. There is a very strict timescale for making this type of specific application (within 5 days of receiving the decision) and it is vital that you seek advice from a lawyer before pursuing this option.
You might also like...
Hi all, thanks for the kind words! Yes we all deserve a second chance! @MINY as previously said write your case and if I can suggest you something, I'll be happy to! Good luck everyone!!
TheDon
- 24-Jun-17 @ 6:48 AM
@The Dom, thank you for your answers. It doesn't matter what we do as human being but if we accept our consequences, we all deserve a second chance in life. I really hope you get some positive determination from the judge. You have been also like a hero in this site.Don't give up for your human rights and many thanks again for taking your time to answer some questions here.....BEST OF LUCK THE DOM!
Rama
- 23-Jun-17 @ 10:42 PM
Iwent to court in Feb and I haven't received my determination letter. It's a long and stressful wait.
Nice
- 23-Jun-17 @ 7:39 PM
@TheDon - thanks for getting back to us and hopefully the good news will be relayed in writing. Continue to keep us posted.
Xian
- 23-Jun-17 @ 10:19 AM
@MIL I will certainly be celebrating once back to my flat in London!!!! Enjoy a cigar and some whiskey!!! @MINY How can I help you? Explain your case please
TheDon
- 23-Jun-17 @ 8:38 AM
Please can you help me the don coz I have no barrier
Miny
- 22-Jun-17 @ 7:28 PM
I'm really pleased to hear the good news you will definitely be celebrating once you get the letter!!! ?? I'm so happy for you! God bless :)
Mil
- 22-Jun-17 @ 7:01 PM
@Rama, for the date of the FTT appeal I was still in custody but had a reply within 5 weeks and the outcome within 3 days. For the UT appeal I waited 12 weeks, with the date set 5 weeks later. Now I have to wait 12 days to get the outcome from the judge.
TheDon
- 22-Jun-17 @ 6:00 PM
Hello everyone!!! Sorry I didn't reply before, but I came back to Italy last night and was very tired. So 2 days ago I had my appeal at the UT. Home Office presented a QC Barrister...... The appeal lasted over 90 minutes. Long story short, the Judge and I had a good laugh at the grouds HO presented...... :) HO barrister had no idea what to say and how to answer questions presented by me and the judge, as I was the Respondent. He kept diverting the focus of the appeal on my criminal conviction, instead of my length of residency. The Judge told him off several times. I have quoted both regulations and Home Office handbook sections applicable to my case. The HO barrsiter had no idea how to answer me. I have asked the Judge to give me an answer there and then, but he said that he wanted to clarify some points further, so he would start working on his decision the same afternoon and should get a letter within 2 weeks.I think I should get the letter by next week and then back to UK immediately, as I want to start working again and sue Home Office ASAP. Good luck to everyone!!!
TheDon
- 22-Jun-17 @ 8:03 AM
Hopefully he's celebrating ...:)
Mil
- 20-Jun-17 @ 8:27 PM
Any one else here waiting for a upper tribunal date and how long has ur wait been.the don....where are you been stressed out all day for your out come!
Miny
- 20-Jun-17 @ 8:12 PM
hi dan, how was your hearing? do we need to bring all the witnesses (who attended FTT) to the upper tribunal as well. Do we need to prepare fresh statement from every witness as well?
@ TheDon, how long did you have to wait for the FTT for the date of your first appeal? Also does it mean if your appeal went to Upper tribunal, the waiting time for a date from Upper tribunal is less compared to FTT? I really hope things goes well tomorrow for you and best of luck! stay strong.
Rama
- 19-Jun-17 @ 9:51 PM
@14K it all depends on what the grounds to appeal are. I won the appeal at teh First-tier Tribunal. Home Office appealed and, after 12 weeks from the appeal raised from HO, I had my Upper Tribunal date fixed, which is tomorrow. So I take this chance to wish you all good luck!!!
TheDon
- 19-Jun-17 @ 9:38 AM
Hello, my appeal was allowed and I want to ask how long will it take for the Home office to get back to me Thanks
14k
- 18-Jun-17 @ 9:48 AM
M- Your Question:
If home office don't get back to you in time you can chase them up or complain to the ombudsman or home office complaint department. I really hope it works out for you and everyone esle.
---
Our Response:
You can complain via the gov.uk link
here
.
CourtroomAdvice
- 16-Jun-17 @ 3:18 PM
That was in taylor house FTT. ECHR case. The judge said will get notification in two weeks. but its nearly more than 30 weeks since than. Has anyone got this kind of problem or anyone solved this type of problems. pls advise us. we send 8 letters so far to the tribunal. no response.
What was your case ? If you don't mindme asking ...
Mil
- 13-Jun-17 @ 9:04 PM
My solicitor had send 8 letters so far, but there was no response from the tribunal. I do not know what else we can do. if any of you guys have this problems, please let me know what other steps can be taken to get the determination.
Every time you call log it keep a record of it who you spoke to and the time
Mil
- 13-Jun-17 @ 12:23 PM
@Miny it probably won't make a difference, but it will make sure that you are in their head as it is your right to have an outcome within the time reported.
TheDon
- 13-Jun-17 @ 7:43 AM
The don...call everyday does that make a difference
Miny
- 12-Jun-17 @ 7:59 PM
@JB my gosh that's 7.5 months that's a long wait. Have you rang the tribunal and find out what's happening? Which tribuanal did you go?
Nice
- 12-Jun-17 @ 6:04 PM
@JB if I was you, I would call them to find out what's going on. If you have a solicitor then ask him/her to do so. Call daily until you don't get an answer!!! Good luck!
TheDon
- 12-Jun-17 @ 1:51 PM
The government website states it takes up to 4 weeks to receive a decision ...
Mil
- 12-Jun-17 @ 12:17 PM
Its been more than 30 weeks, I have not yet received my determination from FTT. What can I do now? is there any possiblity to get my determination?
JB
- 12-Jun-17 @ 12:39 AM
Hi, I am waiting for my FTT decision for more than six months. Why do they take this much long? How can i get my decision from FTT? Can you advise me please..
JB
- 12-Jun-17 @ 12:34 AM
It's been 19 weeks waiting for a determination letterI am so strss.
Nice
- 9-Jun-17 @ 11:46 PM
Had my hearing yesterday for spouse visa. The home officer didn't turn up. I was in for an hour and 10 mins. allegation was he travelled on a fake passport to U.K. We stated the honest truth he came to the uk illegally. He went back to India to get his entry clearance we got married there. So the judge asked me about his family and why did he come here illegally. i will receive a decision in 3 weeks time. The judge didn't give anything away so not sure if it's a yes or a no. My friend thought the judge was fair at questioning and was a good judge.... let's see what happens but the experience was daunting i was mentally drained all I said was if he was not a decent man I would not have travelled all the way to India to get married to him ... the judge said I got your point... I really wish good luck to everyone really hope people who are away from family members can be together soon.... :(
Tell me about it...my daughter is growing up with out her father .....HO in the last three years have killed my soul....In the last three years I havnt been living just alive!
Miny
- 8-Jun-17 @ 9:23 PM