What Happens at an Immigration Hearing?
By: Lorna Elliott LLB (hons), Barrister - Updated: 17 Apr 2017
|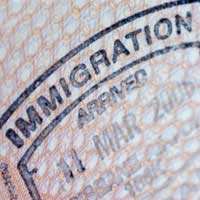 An immigration appeal is heard by one or more judges in a number of locations in the UK. There are no juries in immigration appeals tribunals. Judges are legally qualified, and there are sometimes other members of the tribunal (non-lawyers) who also hear appeals.
An Immigration Hearing
An immigration hearing is held by way of an appeal once an application has been made and refused. This may be because of a prior:
refusal to allow someone entry to the UK
refusal to give someone leave to remain in the UK
refusal to allow someone asylum in the UK
refusal to the Asylum and Immigration Tribunal
decision to deport someone who is already in the UK
Types of Hearings
There are two types of hearing, the Case Management Review hearing (CMR) and the full hearing. A CMR is only held in the case of country asylum appeals and cannot be adjourned. If you do not have your own representative it is very important that you attend your CMR because if no one attends the judge may decide to determine your case without a full hearing. If you need an interpreter to translate the proceedings for you, you must let the tribunal know in advance so that they can arrange one for you. If you have a legal representative they should be able to arrange this for you. Tribunal Service interpreters have more rights than other interpreters, so for obvious reasons they are a better choice.
What to Expect
You should arrive at least 20-30 minutes before your hearing date. When you get to the centre for your appeal there will be a number of cases listed for hearing at the same time. You may have to wait some time before your case is called on, but the clerk of the court will be able to give you an idea as to how long you will have to wait.
It is important to have some money with you in case you want to buy drinks or refreshments, although you will usually be provided with water in the hearing room once your case has been called on.
The hearing is usually held in a room with desks and chairs. It does not look like a traditional courtroom, like the ones normally used in television dramas. The judge(s) sits at the front of the room at a desk or table and the other people sit at tables and chairs in front of him. The Home Office representative (the respondent) will usually sit on one side of the room, and the person appealing (the applicant) and his or her legal representative (if they have one) will sit on the other side.
If you require an interpreter they will sit next to you. An interpreter must interpret the proceedings fairly and without bias. They will give their translation of the proceedings to you in a low voice or whisper during the proceedings, either while people are speaking or after a statement has been given. Any witnesses will be called into the room to give evidence as and when they are required. They are not allowed to hear the proceedings prior to giving evidence, and can only remain in the hearing after they have given evidence with the permission of the judge. As hearings are in public, there may be members of the public and very occasionally journalists present in the room too.
The Decision
The judge(s) does not decide whether or not your appeal has been allowed (successful) or dismissed (unsuccessful) at the hearing. You will be informed as to the outcome of your case in writing. If there has been an oral hearing, this will be within two weeks of the hearing date. If the appeal was on paper only, the decision is sent approximately two weeks after the hearing.
Appealing the Judge's Decision
There is no general right of appeal although both parties, either the appellant or the Home Office, may be able to make an application for judicial review. This is a review of the case on the basis that the judge got the law wrong. There is a very strict timescale for making this type of specific application (within 5 days of receiving the decision) and it is vital that you seek advice from a lawyer before pursuing this option.
You might also like...
If you wentto your country on your own accord it's good, your not an illegal immigrant anymore. You have gone back to get entry clearance.. you just have to write a statement stating that your sorry have a family etc ... there are many people in the U.K. Who are illegal! If you go back on your own it's good as it shows your doing the right thing ... you have kids too ... you can ask your wife to go to the MP and send in a expedite request to speed up the process it's worth a try or she can do it without going to the MP! Worth a try ...
Mil
- 17-Apr-17 @ 1:23 PM
Hi, Spouse visa rejected on 320(11) appeal June 2016, refused by ECM, received bundle back April 2017, now waiting for hearing date.Does any one know how to deal with 320(11)over stayed and return on own expense.?? Involved two British kids. 320 7b contradicted with 320(11). Any help pls.
Appu
- 16-Apr-17 @ 10:43 PM
If they say your relationship is fine then you do not need to provide more communication! The ECM agreed my relationship is genuine ECM refused because i provided no land registry papers prooving who the owner of my property i rent belongs to and SA302 papers showing i pay tax on the rental income
Sorry don't know why I said New Delhi! I'm so Cross with the New Delhi eco and ecm so impotent.... number of times I've contacted them and not once they have dealt with my enquiry properly! Contact the tribunal if you have any questions they are better ...
Mil
- 16-Apr-17 @ 12:51 PM
@I I have my hearing in June. I have printed off about 20 short emails and put it in the file (bundle). So what I did, I took screenshots of the whatsapp calls and emailed them to my husband's email add and mine, then printed the emails! If they have made no allegation against your relationship then you don't need to print off a years worth of emails. i prepared all the three files (bundle) it was crazy all that photocopying! I feel we all will be fine! Also contact the ukvi New Delhi you can find the address on gov.uk send them an email in regards to your bundle! Print that off as evidence... if you don't receive your file back you have prove you contacted them. Send that to the presenting officers and tribunal. I wrote a letter to the HOPO stating to contacting me if they need further information! This was the first page of the file!
Mil
- 16-Apr-17 @ 12:48 PM
I have got the court hearing in few months but I have not received the bundle back.how do I get it back? Its clearly been reviewed by court therefore they have me a hearing,Plus it has a lot of communication proof approx more than a year worth of whatsapp chat history! I need to reprint all that? This has got to be a joke?
The evidence you send for the appeal if it has gone past the review stage you will get it all back called a 'bundle' you have to then resend the bundle including extra evidence to the courts. You need 3 of the exact same new 'bundle' one for yourself one for the jugde and one for the HOPO
When you say you got the bundle back, what do you mean? Was it sent to you? Mines been sent back to England but I haven't got it? Do I need to re send all the papers that were in there again? I figured it gets sent straight to court :/
Yes that makes sense wow it took a year for you to get the bundle back... We appealed in March 2016... ive contacted the ukvi India let's see what they have to say... can't wait for all this too be over! If you don't mind me saying, don't hope too much for it to be withdrawn you have waited more than a year...only a couple of weeks to go and if it goes to the tribunal it's good so the judge can see another case (waste of time and waste of money ) it looks bad on the home office! They should have trained eco and ecm ... the bottom line is you will win! HOPO won't know what to say... either way you will be fine! so don't hope anymore it's going to come to an end .... I nearly drove myself crazy hoping ...all this overturning business is all bull ...if it goes to the tribunal stand up tall! :)
Mil
- 14-Apr-17 @ 7:57 PM
I got the Bundle back in 1st March 2017 alongside the ECM decision on why he did not allow the appeal we submitted in Feb 2016. You see the ECO refused the application and the ECM agreed with ECO when we submitted our re appeal in Feb 2016. The ECM signed the documents in May 2016 and we got them in 1st March 2017. Hope that makes sense?
@PK When did you receive the ECM refusal was it after the notice of appeal (when you hope for it to be overturned) ? My court date is on the 8th June, I've sent of the bundle evidence that the ECO refused on. I don't have any document of the ECM ...
Mil
- 14-Apr-17 @ 4:18 PM
Good luck PK hope so too! All the best. Thank you for keeping us updated.
Mil
- 14-Apr-17 @ 2:48 PM
18 days left until the court date in Stoke on Trent Spouse Visa. We sent our bundle including the extra evidence of which the ECM refused and upheld the ECO decision of refusal. They received the bundle on Tuesday. I'm hoping that we do not need to go to Court and they withdraw the appeal before the court date. 3rd May 2017. Application in Nov 2015. Refusal Jan 2016, Appeal Feb 2016 Court Date May 2017. I'll let you know the outcome
PK
- 13-Apr-17 @ 10:20 PM
Thanks Please share the news with us Thanks :) fingers crossed.
Mil
- 11-Apr-17 @ 3:36 PM
@MIL thanks for your wishes! Hope the same to you! Almost 10 weeks have passed since Home Office appealed, so it shouldn't take too long for a Judge to check my file and make a decision.
TheDon
- 11-Apr-17 @ 2:55 PM
Thanks Don my hearing is at Hatton Cross. That's just it, I have to argue against a fake allegation! The ECO made a really stupid allegation which they can't even prove! The HOPO should really withdraw the case, it depends on how experience they are I guess! I still have two months until the hearing I have submitted the file 8 weeks earlier! They probably won't even look at it until the end...all the best with your case I'm sure you will win! :)
Mil
- 9-Apr-17 @ 11:35 AM
@MIL the HOPO will not even talk to you in the courtroom..... He/she will talk to you once the hearing starts. And most of them have no idea how to respond to your answers. The HOPO I had at my hearing was so stupid that even the Judge questioned him about the (fake) grounds HO used to deport me, and he said: I think so..... SO get yourself ready and study your case well, so you can impress the Judge and make the HOPO look like an idiot!!! Good luck!
TheDon
- 9-Apr-17 @ 9:13 AM
Hey guys, before the hearing does the presenting officer contact you if he/she needs any further information? Thanks
It takes 48 weeks to get the court hearing date for the case. If you've already had it then upto 12 weeks for the decision to come. (Spouse visa) You can always call and ask
@Sammy it depends what the appeal was for. It can take on average 18 weeks if it was for lawful residence or 48 weeks for marriage and other subjects. So you still have a long waiting to do.....
TheDon
- 6-Apr-17 @ 6:21 AM
I had and immigration appeal hearing in February it's been 8 weeks waiting. Does anyone know how long the wait for decision is? Thanks
Sammy
- 5-Apr-17 @ 10:16 PM
My husband wrote a statement saying sorry ... and that he did the write thing by going back home to get entry clearance But doing that screwed us over ... the system did ... Good luck..
Mil
- 3-Apr-17 @ 11:05 PM
@Mil @ thrDon does any one know solutions for 320(11) refusal how to defend it , is it 3207(b) pls help. in my case two British kids as well away from father,
Appu
- 3-Apr-17 @ 6:05 PM
Haha aww thanks Don for the advice! We definitely have a strong case! Your right I'm going to smile the whole way through! Will let you know how it goes it's in June! :)
@MIL you'll be in a room with the Home Office Representative Officer and a Judge. The HO will start first, then the Judge will ask you some questions. All you have to do is KEEP CALM, take a deep breath and answer all their questions to the best of your knowledge. If you believe you have a strong case, show them by not being afraid! Be confident and keep eye contact with both! Smile, that's the killer! Home Office hates when the defendant is calm and in control. They can't react at it! When I had my hearing, I was smiling and kept calm. The HO got confused and uncomfortable and the judge noticed it, that's why the judge ruled in my favour. Remember just stay calm, take a deep breath and be confident in what you say! Good luck!
TheDon
- 3-Apr-17 @ 7:01 AM
Thanks Don, will they ask loads of questions ? I have already met all requirements as a sponserer, my husband was refused under 320 11 being illegal in the U.K. I'm repeesentating myself ...do I give a statement at first how will it work ??? Thanks don Good luck with your case
@MIL take with you copies of any evidence you have!!! Highlight the parts that you know are important. and, if you are representing yourself, be confident! Have a map of what to say and when to say it. I did so myself and won my case, but then HO appealed the FTT Judge decision. So now waiting for another Judge to decide. But this means that what I have presented is good enough to prove that HO is wrong! Good luck!
TheDon
- 2-Apr-17 @ 7:45 AM
Advise on preparing the bundle for court hearing ? Original papers or photocopies ? Be thankful for help.
Mil
- 1-Apr-17 @ 12:41 PM
Does anyone know how long the court hearing takes?
Jack39
- 30-Mar-17 @ 11:22 AM
@Man From what I have heard HO can withdraw the case upto a day before the hearing date All depends on the caseworker
Preet
- 22-Mar-17 @ 10:39 PM