What Happens at an Immigration Hearing?
By: Lorna Elliott LLB (hons), Barrister - Updated: 16 Feb 2020
|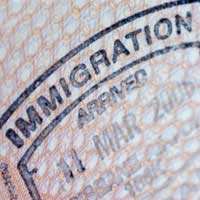 An immigration appeal is heard by one or more judges in a number of locations in the UK. There are no juries in immigration appeals tribunals. Judges are legally qualified, and there are sometimes other members of the tribunal (non-lawyers) who also hear appeals.
An Immigration Hearing
An immigration hearing is held by way of an appeal once an application has been made and refused. This may be because of a prior:
refusal to allow someone entry to the UK
refusal to give someone leave to remain in the UK
refusal to allow someone asylum in the UK
refusal to the Asylum and Immigration Tribunal
decision to deport someone who is already in the UK
Types of Hearings
There are two types of hearing, the Case Management Review hearing (CMR) and the full hearing. A CMR is only held in the case of country asylum appeals and cannot be adjourned. If you do not have your own representative it is very important that you attend your CMR because if no one attends the judge may decide to determine your case without a full hearing. If you need an interpreter to translate the proceedings for you, you must let the tribunal know in advance so that they can arrange one for you. If you have a legal representative they should be able to arrange this for you. Tribunal Service interpreters have more rights than other interpreters, so for obvious reasons they are a better choice.
What to Expect
You should arrive at least 20-30 minutes before your hearing date. When you get to the centre for your appeal there will be a number of cases listed for hearing at the same time. You may have to wait some time before your case is called on, but the clerk of the court will be able to give you an idea as to how long you will have to wait.
It is important to have some money with you in case you want to buy drinks or refreshments, although you will usually be provided with water in the hearing room once your case has been called on.
The hearing is usually held in a room with desks and chairs. It does not look like a traditional courtroom, like the ones normally used in television dramas. The judge(s) sits at the front of the room at a desk or table and the other people sit at tables and chairs in front of him. The Home Office representative (the respondent) will usually sit on one side of the room, and the person appealing (the applicant) and his or her legal representative (if they have one) will sit on the other side.
If you require an interpreter they will sit next to you. An interpreter must interpret the proceedings fairly and without bias. They will give their translation of the proceedings to you in a low voice or whisper during the proceedings, either while people are speaking or after a statement has been given. Any witnesses will be called into the room to give evidence as and when they are required. They are not allowed to hear the proceedings prior to giving evidence, and can only remain in the hearing after they have given evidence with the permission of the judge. As hearings are in public, there may be members of the public and very occasionally journalists present in the room too.
The Decision
The judge(s) does not decide whether or not your appeal has been allowed (successful) or dismissed (unsuccessful) at the hearing. You will be informed as to the outcome of your case in writing. If there has been an oral hearing, this will be within two weeks of the hearing date. If the appeal was on paper only, the decision is sent approximately two weeks after the hearing.
Appealing the Judge's Decision
There is no general right of appeal although both parties, either the appellant or the Home Office, may be able to make an application for judicial review. This is a review of the case on the basis that the judge got the law wrong. There is a very strict timescale for making this type of specific application (within 5 days of receiving the decision) and it is vital that you seek advice from a lawyer before pursuing this option.
You might also like...
It can take 3 months or more to receive a decision, sometimes you can get it in 2 weeks... sadly there is no set time. Just be patient and pray you get it sooner. Good luck I reallly hope the appeal is allowed. I know the heartache that it can cause being away from your partner.
HellopleaseIappliedfora spouseVisaand it wasrefused.We appliedat the court.it washard on 16-12-2019.in the uk my wife was at the hearing.We wear askedto sendup to datescall records in a weekof the hearing whichwe did.au till now we haveno got the decision.Is pass 4 weeksnow Whatan we do ? Thanks.
Kwamena Abakah Abbiw
- 15-Feb-20 @ 12:50 PM
Please check Richmond chambers website - what if there are no insurmountable obstacles? R. Agyarko 2017 WLR 823 Make sure you explain clearly why you can't relocate and what impact it will have on your well being. It's so sad you are having to go through this too ... wishing you all the best.
thank you so much S, we are quite convinced that those are the questions will be asked by HO representative, as it was also indicated in the refusal that there is no insurmountable obstacles we will be facing once relocated in Lebanon. I am just hoping that all our reason will be heard and considered. praying for everyone and good luck to all of us, in God's will everything will be settled.
hzl
- 11-Feb-20 @ 9:39 AM
Reason why you can't go and settle in another country- strong reasons! What insurmountable obstacle are there?Cultural difference ... Write a clear statement ... Good luck speak to your solicitor before hand.
hi we have a hearing on in february, can someone pls advice what kind if question the judge or ho representative may ask? we applied FLR -M under 10 year route, husband over stay, we been together for 10 years, 8 years married but no kids. please advice?
hzl
- 1-Feb-20 @ 11:30 PM
Hi. My spouse visa application within the UK was refused. I was given the right to appeal to FTT. I had a court hearing on 13/12/2020. The hearing went on for 20-25 minutes. Not too many questions. The home office lawyer asked a few basic questions and that was it. At the end of hearing the Judge said he will give the decision in writing in couple of weeks but I haven't heard anything till date. I called up FTT and they said the decision is still with the Judge. Any idea what could be the reason for the delay? (It's the 7th week and if excluded the 2 weeks of Christmas holidays then 5th week.) Thank You In Advance
there isn't a time limit... from my experience. Each time it's been different. I wouldn't chase a judge for a decision .... sadly we just have to waitpatiently ....
Hello Sir I had hearing about my case in Birmingham court on 9/12/2019 . Judge was said makes decision about 2 weeks but I didn't receive any letter. Thanks to advice me how long shall I wait for. Regards
0Went to court on the 18th of November, judge said within weeks but am still waiting up till now, called home office they said i have to wait till 3months before I can call to make any enquiries but my lawyer too said they have a maximum of 3 months to send out decisions so fingers crossed God is in control ????????
Baby
- 23-Jan-20 @ 10:28 PM
Home office have applied for permission to appeal - upper tribunal .... god knows how long I will have to wait .... is this common practice?
Hi Jola I think it's difficult to say ... my case was allowed under human rights so when HO asked for permission to appeal it was refused. There wasn't a error of law that the HO found. They still have one more chance to ask for permission to appeal at the upper tribunal ... still waiting Your hearing will be at the first trier tribunal again? Good luck. Hope you get through it.
Hi, I had my hearing in 21 August 2019. That day the person who presented Home Office and Judge agree that my case was clear and thay hadn't to much to talkingabout.After the hearing the Judge said that the decision will be made after 3 weeks.I was waiting more than one month and no letter came to my house. At 5 October 2019 my solicitor contacted the Tribunal and thay said that the decision was made at 10th of September and was positive and was send by e-mail . Home Officehaven't appeal. We applied for a copy of the decision by writing. 15 November 2019 the Tribunal send one copy of the decision in my house.On 27 November 2019 Home Office appeal my case. Now I have to go in Hearing again and I am worried about that. How much possibility have that the decision to be positive again?
Jola
- 19-Jan-20 @ 5:50 PM
If you are waiting for a decision from a judge you just have to wait patiently, there isn't a set time. Home office were refused permission to appeal against the judges decision. I waited 19 weeks for a decision. 3 months for a courts decision. The decision will come... I know it's hard waiting but it's not in our hands... Good luck everyone.
An appeal without pre-hearing means what?
Ibrahim
- 14-Jan-20 @ 12:55 AM
Hi we had hearing Ftt on 15 of October 2019. We are still waiting for decision. How long we have to wait??
Paru
- 3-Jan-20 @ 10:42 AM
Hi. my husband had court hearing on 10th of December.on the 20th of December the tribunal sent the answer via email to my lawyer that we won ( my husband allow to come ). now we waiting that home office contact use for passport to stamp visa or something. Please any idea on what we need to do next ? or what will happend ? and how long we have to wait for visa ?
nimi
- 28-Dec-19 @ 12:01 PM
I had my first tier tribunal end of September 2019 and after the hearing I was told we will hear the decision via writing within 2 weeks and since then I am still waiting to hear from tribunal for the outcome and is nearly 3 month now....does anyone know how long does normally take for the outcome of the tribunal?
Nck
- 19-Dec-19 @ 1:51 AM
9th week and still don't know if the first trier tribunal has granted or refused appeal to permission to the home office ... is there a time limit, how long can this take ? Appeal was allowed but Home office applied for permission to appeal to the upper tribunal ... would be great to know how long I have to wait for ... if there is a time limit ...:(
It's been 7 weeks, still haven't heard if Home office permission to appeal has been granted or refused.
System is a complete joke3 months 3 weeks sill waiting for appeal decision whenwe were told 10 days !!!!!
bunafire
- 23-Oct-19 @ 11:24 PM
Hi, I got my decision appeal allowed after 2 months. On the 17th September we received notice of receipt the home office have applied for permission to appeal at the upper tribunal... anyone experienced this before ... still hasn't come to an end...:(
Hi! Appeal hearing 04.09.19, received determination 9.9.19via emailAppeal allowed. Please what is next? How long will it take HO to reply or issue my husbandVisa? Will they send me email or letter? Can i call HO or too early? I can't wait to see my husband again ooo. Children are waiting more .
Loveme
- 18-Sep-19 @ 3:58 AM
Hi my appeal allowed on the spot and the honourablejudge said we will send decision. Does anyone know how long I have to wait it's now one week but didn't hear anything
Au k
- 18-Sep-19 @ 2:36 AM
i went to appeal courtin july 2019 as a spouse for my husband w got a answer after 2 weeks to say hs visa is allowed how much longer will it take for him to get s viss
tank
- 7-Sep-19 @ 7:57 PM
Spouse visa entry clearance Married in India, Punjab December 2015. Home office refused application - 2016. Court hearing - appeal dismissed in 2017. Second application - 2018 Home office refused Court hearing - June 2019 Appeal allowed after 10 weeks. Husband will finally be joining me. My case wasn't complicated at all ... we had bad luck by not choosing the right legal representative... long story ... my advice to all is please take your time in choosing the correct solicitor, advocate for your case. Go with your gut instinct... please try to be patient ... I understand it's hard I've been through the waiting game ... now I'm just waiting for the home office email ... After four years I can finally write - appeal has been allowed. Good luck to all. X
Jaymac heard back from the court appeal was successful! do i get it in writing as well? @vicky I emailed the court and i got a respond back the next day you should try the same
Jaymac
- 16-Aug-19 @ 10:27 AM
Please did anyone know the processing time of appeal? I went to the court 20th of June and the judge said he will get back to me in 3weeks times. It is 7 weeks now have not hear from the court. What can I do pls?
Vicky
- 13-Aug-19 @ 11:43 AM
If a decision has been made, does my solicitor find out straight away ? Or how does it work ? Or do I get a letter?
Nathaniel07
- 8-Aug-19 @ 4:30 PM
@S thanks for the responds i understand its just annoying because I really thought its going to be 10 days until i get the decision i have even stopped calling in to ask if the decision has been made yet..I just want to know and its a bit hard to be patient because i aint a patient person HAHA
Jaymac
- 7-Aug-19 @ 9:47 PM