How to Complain About the Courts and Police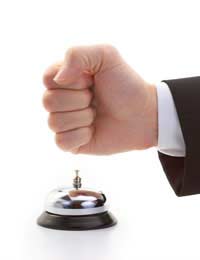 The police and courts attempt to operate efficiently, but there may be incidents where you believe that you have been treated unfairly. In these cases you are completely within your legal rights to to make a complaint. The justice system we have is based in fairness. The law requires that defendants can usually appeal a court decision, and that citizens complaining about the court that has dealt with their case or the police are given a fair hearing.
How to Complain About the Police
There is an independent body called the Police Complaints Authority (PCA). This was set-up by central government to give the public a mechanism by which they could make complaints against the police. Each police force has its own complaints team that deal specifically with complaints directed at their officers.
Complaints about the police can range from minor offenses such as the use of excessive force during an arrest, to more serious complaints such as racism, or the death of a suspect in custody. The police are governed by a Code of Practice that gives them guidelines on how to behave and carry out their duties. You can see a copy of this code at your local library. It's a good idea to familiarise yourself with the code before you make a complaint.
Note that you should make your complaint within 12 months of the incident you are complaining about. Also, any serious incidents will have to go to the Crown Prosecution Service (CPS) for consideration. If you have a complaint and live in England and Wales you make your complaint about the police in a number of ways. These include:
By contacted the police force directly
Via your solicitor or other legal representative
With the help of your local MP
With the help of the Citizens Advice Bureau
If you live in Scotland you should direct your complaint to the chief constable of the police force concerned. If the incident is serious and involved an officer breaking the law, your complaint should be directed to the Procurator Fiscal Service as this is the same as the CPS in England and Wales. And if you are in Northern Ireland, contact the Police Ombudsman.
How to Complain About the Courts
If you feel that the court handling your case hasn't done so professionally, and you haven't received proper justice in your case, you can make a complaint directly with the court by contacting a member of the court staff either in person or via phone. You may want to make your complain more formal and in writing. If this is the case you need to complete form EX343A. You can download the form from the HMCS website. You should receive a reply about your complaint within 5 working days. When you make your complaint ensure that:
You describe all the facts relating to your complaint in as much detail as possible
Clearly explain why you think the court made a mistake with your case
What loss (if any) you have suffered as a consequence of the mistake or conduct of the court
If you are making a complaint about a specific member of court staff, and feel you have made a loss, you may be able to claim compensation. This will depend on the nature of your complaint.
Any complaint you make will be investigated and a decision made about any action to be taken. If you disagree with the outcome of your complaint, you can ask the Area Director to further consider your complaint. And if you are still not satisfied with the Area Director's decision about your complaint, you can contact the Customer Service Unit by telephone on: 0845 4568770 or 020 7189 2000. Disability Helpline/Textphone: Freephone 0800 358 3506.
If after going through this procedure you still believe your complaint hasn't been dealt with properly, you can contact the The Parliamentary and Health Service Ombudsman. You can't contact this service directly, but your MP can help you make contact with them.
How to Complain About a Judge or Judicial Decision
After the court case you are involved with has finished and you feel that your case wasn't dealt with properly under the law, or that the presiding judge didn't perform their duties in accordance with the law, you can make an appeal. Appeals can be effective, but take legal advice before you proceed with your complaint. All appeals need to be made quickly and directly to the court where your case was heard.
Making complaints about specific judges will mean contacting the Office for Judicial Complaints. You can telephone them on: 20 3334 2555, or visit their website
Complaining about a magistrate will mean you have to contact the local Advisory Committee. The court where you case was heard can give you their contact details. If you are not happy with their decision, you can then take your complaint to the Office for Judicial Complaints.
You might also like...
My son is getting unfairley treat by justice sytem got no couitions remamded him cayse he got depression keeping him in now judge at durham asked for medical record proue not threat to public and himseilf still kept him in how can you go agaist medical records
Ray
- 18-Oct-17 @ 8:52 PM
The defendant was found not guilty, there was only one witness (1) that gave evidence and he lied, the witness(1) who is the defendants friend has loaned the defendant money and the defendant could only pay the witness (1) back if he was found not guilty. Is this not classed as conflict of interest? I feel the solicitor didn't do her job right. no witnessses were called on the victims behalf, 2 people were due to give evidence up until the day before and then were dropped without an explanation. Is there any organisation I can contact to help the victim? as the defendant got away because of what the witness(1) said. 3 witnesses can testify that his friend lied, I have two witnesses that can verify that his friend (witness 1) said the defendant owes him money. The defendant was charged with attempted rape, he was a manager were the victim works, (defendant was instructed by higher management to hand in his notice at the time of arrest)witness (1) whom also works now is making the victimwork life very difficult by spreading lies and trying to embarrass the victim. I also work at this company and I need to help my friend, I feel the company should stop witness (1) from making the victims life difficult. The defendant also broke his bail by contacting the victim, there was proof of this of social media message and he got away with that too as it didn't class as being intimidation. I feel a major injustice has been made.
Kam
- 12-Oct-17 @ 3:00 AM
When police ignore what youre saying and fail to investigate fully, lose your CD with critical information and judges fail to see whats missing - what can you do? Even my solicitor did not raise these aspects in court ... he himself failed my representation giving me no other options saying choose guilty or not guilty. I only found out later that I could have requested more time to examine what I was shown just before I went in to court by him.
Suffering
- 23-Aug-17 @ 8:00 PM
@Andyl it's extremely frustrating because I think it was innocently done because other people had gone down to the flat who were also staying there and being drunk they picked up everyone's belongings and took it down thinking it was mine. Everyone was so drunk it's just horrific knowing I'm now stuck with a criminal record for the rest of my life ?? I just wasn't sure how the criminal law worked I thought they had to have 100% evidence showing a person of guilt. Not say to me sorry but we have to assume you stole it because you're seen with it first. God help the day I walk down the same street someone is murdered on because if that's how the law is looks like I'd be blamed for that too. They even accused me of stealing a secret Santa aftershave set, what on earth am I going to do with that being a female and I'm not even seen on cctv with that.
@Aj - It seems it was just one of those situations where the finger might point at you. It's unlikely it can go any further as the court of appeal has decided. It's a case of real bad luck if you didn't do it. If you were really drunk and you can't recall anything and the handbag was found in your flat after you were seen on CCTV picking up the handbag, it is pretty damning.
AndyI
- 31-Jul-17 @ 2:24 PM
I was accused of stealing at a staff Christmas party last year Dec 2016. I have no recollection of that night but there was cctv of me picking up a handbag and then asking a group of people if it was someone's as I'm seen pointing to it. I then walk off but a minute later I'm seen without it and nothing on me. I had a short dress on with no pockets. We were all staying in the hotel that night as it was closed to the public. The items were then found downstairs in the flat I was sharing with two other people. I had no key to get in to that flat and I wouldn't have had the time to get in the lift and go downstairs with this stuff as I'm seen a minute later after seeing me with the bag to then having nothing. Also aftershave and cigarettes had been taken from someone else and found in the flat downstairs I'm not seen with any of these items yet I've been blamed for absolutely everything in magistrates. I decided to appeal due to the lack of evidence they had against me, but I lost my appeal Friday in crown court. They stayed they felt really sorry for me and my situation and can see I'm an honest individual who was highly upset by this incident but could not over turn my appeal because they have to assume I took all that stuff because I was first seen with the handbag. I feel like I've been made a scapegoat because I was too drunk to remember. I've now lost my security license which I've worked so hard with over the last 4 years and having a criminal record for theft has destroyed me mentally, I just don't know what to do. I'm 31I've never stolen anything in my life. Whoever asked me to get that bag for them has clearly set me up. Am I able to do anything about this or do I just have to live with it? The police even stated I had nothing on me after I was arrested and taken in to custody. Two Romanian girls accused me of stealing mobile phones out of their bag and £40. That night was a free bar so how can they do me for stealing £40 when I had nothing on me what so ever? I'm baffled I thought the law had to prove undoubtedly of someone's guilty not just assume it must have been me because I was first seen with one bag.
My partner and I were witness to an incident involving my father and his girlfriend. They arrived back from a dinner party they went to together separately, my father had supposedly cheated on his girlfriend with another guest at said party and his girlfriend had hit him, cutting his face. They continued arguing at the house, with his girlfriend pushing him over. MY partner then decided to drive her to a taxi rank so she could go and stay at her parents. The police arrived whilst my girlfriend was driving and accused her of assisting an offender in her absence. They then took my statement and my fathers statement about the incident. My father asked for someone to sit with him during this and he was told he wasn't allowed anyone with him. My girlfriend arrived back halfway through the statement taking and was told to wait in the spare room. Her statement was never taken. This has now gone to court, however in the initial hearing the cps said that my father had stitches, and she assaulted him again at my house, which is fundamentally untrue, and since raising this issue with the police, along with the fact my partners statement was never taken, both myself and my father have been categorised as "Hostile Witness". Since the Police/CPS have presented false evidence in court, (provable by medical records,) what is the suggested course of action? Pretty sure if I present false evidence in court I'd be arrested and charged with perverting the course of justice!!
sdl90
- 12-Feb-17 @ 3:01 PM
Today I attended a meeting with the CPS .to tell me that they will be standing by the decision not to charge my abuser. I trusted in a police officer when I was 14 to tell him about abuse at home. He abused me too and forced me to do oral on him. I cant believe that I don't get a court case because he says he don't know me and through their (Cps) experience they know I wont get anywhere in court.im so angry atm. It took me all my strength to disclose . Can you over rule cps .they said it was final. The decision would not be changed. Just brings me more self harming and hatred for system
Cal
- 31-Jan-17 @ 9:48 PM
Hello This is complicated. The police said I was speed and sent original forms. The first one never got to me so I filled in the second one that turned up 7 weeks later. The problem is that we don't know who was driving as my wife and I shared the driving. So when I filled in the form I left the who was driving bit empty. However this is not the problem. I have a clinical hearing disability and I wear hearing aids. In the magistrates court I was put into the only court without a hearing loop and despite me continually saying in court I can't hear the magistrate said when I continually asked the police officer to repeat what was being said the magistrate said that I would get a chance to cross examine later but I pointed out that how can I cross examine something I have not hear. I then had a argument with the barrister as he was shouting at me which did not go down well. I heard nothing. The courts had 3 copies of my hearing disability letter and were told on 5 different occassions that I had a hearing disability. On the day of the magistrates hearing I was toild the magistrate refuses to move the court date. the clerk omitted all mention of my disability and focused just on the legal aspects of the case and ignored my hearing issues. On appeal (I was convicted) this time I had a barrister the crown court judge said the there was a possibility that there was a chance of an unfair trial but he said we should make an application to have the case squashed but it failed. In fact due to the court not taking on board my disability on any level it was totally and absolutely not mentioned at all. The judge said that the courts had made every effort for me to hear but refuse to expand as top how they achieved this. This is a total lie and has left me in court without hearing. Even in the appeal the hearing loop did not work. If you wear the head phone you can't hear a thing and if you wear hearing aids and the headphones you get feed back. The case is simple the police have not proved I was the driver and that me not filling who the driver was, was due to not knowing who the drive was I couldn't fill it in. I have emails from the magistrates court saying they will not discuss my hearing issues in court. This is a total stitch up my this particular court service and they have at every turn not allowed me to hear in court. The court is now saying I admitted to the offense in the original hearing where I could not hear what was being asked. My question given that there is a serious breach of the disabilities act 2010, can you sue the court for compensation and can you sue a judge under the discrimination act 2010 which he should be aware.
CiaranPatrick
- 30-Jan-17 @ 5:07 PM
My partner was arrested for assault by beating after a third party contact reported he had hit me. This wasn't the case (I had just fallen out with the third party in question) I had actually had a fall a few days previously! When the police spoke to me at my address, they took no statement and no photographs of my injuries (I offered both of these and they refused them saying it would make no difference because it's a dv case). Now there's no history of dv in our relationship of any kind. This has been sent to trial, my partner is not allowed to the family home or to contact me. He is allowed to see our children but this is to be done with me contacting a third party to arrange it. I don't understand how this has gone to trial or how he even got charged when I have told them, the ambulance staff that assisted after the fall and the social services how my injuries occurred! Social services are in agreement that he poses no risk or threat to either me or the children! He can't afford legal fees until he's paid on 31st Jan! But the trial begins on 1st Feb! Can I get my own solicitor to help with a complaint????
Keeley
- 16-Jan-17 @ 11:09 PM
I feel that I never had a chance to tell my side of things. Because his lawyer And my lawyer and the meadeater told me that I have to leave the house I have lived in for 15 years with the father of my two youngest kids. And one day he can just tell me to get the F__ out . I was like no I was a stay At home mom and had nothing in my name and no where to go. Even my car was his. And he can come home and tell me I have to go. And then the layers told me I have to go I thought that after you have established residenc that the would have to file papers to evict me just like any landlord would have to do. Then at meadeationthey said that I would beAble to get my things out of the house even after I left they gave me 6 days to pack up 15 years of stuff out of the home witch was hard because I had no money and no place to take it. I lived with this man for 15 years shad two of his kids and it's ok for a man to just say get out even ifyou have nothing. But I did have Two kids that he was told that if I leave the kids are going with me. So I thought I had to go and I had a friend and her husband let us stay with them. He didn't even let me use the car that I always drove. I left with what I could put in a few bags and me and the kids left. My 14 year old daughter and I went back to his place the next day because I was told that o would beable to get my things out of the house after I left . So the next day we went there he meats me at the door and said all deals are off. And he had changed the locks and took the car I was driving. And I was not alowed back into the house. Then one day I let him take the kids and when he was to return them he didn't bring them back. I went to the court house then to the DA then to the cops back to the court house and back to the DA and all I got was nothing. They said that there was nothing they could do for me. Except steal them back . So I went through this shot for eleven days then I got a chance to get them and I did. Then they kept takeing me to court every other week . I missed both because I had to have emergency surgery on my kidneys my doctor sent them the paper work. And Thay still let the kids stay with me. But then the next week he took me back to court. I still thought we were on the temporary custody. So my lawyer quit on me because she thought I was blowing her off but it was because I had been in the hospital so many times.. so I have felt that I have not had a fair chance to tell my story of how things went down. Because I didn't have the money for another lawyer.i can't beleave the way I way I was treated. By the hole court system the police, and our lawyers. Just because I had nothing on my name no job because I was a stay at home mom for 15 years the man can at any given time kick you out with out any money. Or a place to live. But for 15 years I took care of the kids the house and the farm animals and he got to go to work at a job. And I get nothing . And I lose my kids to level 2 felon . Bec
LouLou
- 4-Jan-17 @ 12:07 PM
Motherhen123 - Your Question:
Is it possible to make a complaint about a historic court case? When I was a child I went to court to give evidence against my abuser and he got let off. 20 years on I have now found out that he was a retired police officer, that the police officer handling the case new him personally. That the court was changed days before I was due to give evidence after my social worker had shown me around another court and showed me where I would be. plus my social worker was changed to and the day I went to court I was made sit in silence for hours in a room next to the court room while my abuser was let roam around free. The police even lost a statement from another child who reported him three weeks before me. Is it possible to have all this looked into and to make a complaint 20 years later ive spent years blame myself for him walking free, and now im adult I have found out that the police and courts where already siding with him because of his police background I never had a chance.
---
Our Response:
I would certainly seek some specialist legal advice regarding this.
CourtroomAdvice
- 12-Dec-16 @ 12:02 PM
Is it possible to make a complaint about a historic court case?When i was a child i went to court to give evidence against my abuser and he got let off. 20 years on i have now found out that he was a retired police officer,that the police officer handling the case new him personally. That the court was changed days before i was due to give evidence after my social worker had shown me around another court and showed me where i would be. plus my social worker was changed to and the day i went to court i was made sit in silence for hours in a room next to the court room while my abuser was let roam around free. The police even lost a statement from another child who reported him three weeks before me. Is it possible to have all this looked into and to make a complaint 20 years later ive spent years blame myself for him walking free, and now im adult i have found out that the police and courts where already siding with him because of his police background i never had a chance.
Motherhen123
- 11-Dec-16 @ 5:28 PM
My grandaughter had sex when 13 with a boy 17 he was taken to court and and pleaded guilty to 5counts of sex with minors he was called back to court for sentencing 6 weeks later n it was cancelled in which time my daughter as been terrorised by him n his family which as now been proved , we are now 4 months down the line n he is still walking round like he owns the place , it as been cancelled 3 times now and we have to go through xmas knowing he is walking the streets n my grandaughter hardly ever goes out ,,, where is the justice in this
Marg
- 8-Dec-16 @ 3:36 PM
My husband had a trial in vegas i was a witness and we were told not to discuss case with anyone several witnesseswere talking to each other about case prior to testifying and all videotape they were right under court camera who do I complain to
Tara
- 30-Nov-16 @ 4:34 PM
We live in Scotland. My daughter was attacked by about 2 girls in a pub but as my daughter only knew who one of the girls was it was just that one that went to court. She had hit my daughter on the face with a stileto heel chipping the jawbone and my daughter also had to get stitches and is marked for life. She was lucky as any lower her artery would have been severed. The girl plead not guilty. My daughter went up to court first time and sat all day they said they had ran out of time so had to go back. Next time a witness was sick so was cancelled. Third time she sat most of the day and procurator fiscal said there wasn't enough evidence to charge this girl so nobody had to go into courtroom and give evidence I think there is something suspicious the other person who was with this girl is a trainee solicitor and the girl who was up at the court comes from a very wealthy family who know all the right people in high positions. Does this usually happen when it has made its way to court. This girl had also assaulted another person and again got off with it
Dusty
- 27-Nov-16 @ 12:56 AM
I have recently found out by calling the police myself that when they were investigating a case of sexual abuse on my daughter that they should have looked back to see if there had been any other complaints about her abuser to do with her due to a police officer answering the phone and informing me that they would normally do this. I am writing to ask you is there anything I can do as the person who did this had his charges changed and some dropped due to the police not looking at the case properly and realising that she had been groomed by him for years since the first allegation was made when she was younger
Chez
- 25-Nov-16 @ 2:31 PM
I was hit by a driver in a pedestrian crossing, the driver plead guilty got 3 points and £400 fine, he drove his car threw a red light in a pedestrian crossing hitting me and my dog, I was in hospital 3 weeks, spot of broken bones and left with life changing and also left disabled with many operations and more to come. The police officer made an unofficial visit to my house tried to come my wife, and then told her he knew the guy who hit he, He God witnesses and told lies and never once visited me in hospital, We eventually made a complaint and the traffic inspector came to our house and could nor believe what had gone on. He gavebus a 4 page report never answered any of our issues, The complaints division at Hamiltin Glasgow lost our next letter. We dicided at the time maybe it was a waste of time, but the procurator fisco. Came back to is with a letter saying Strathclyde police did fail in thier duty and didn't give them all evomce, So 2 years down the road this is still a major issue and j can't move on as how I'm left with life changing injuries, What can I do to get justice or sweats to our lack of justice,,
No justice
- 18-Nov-16 @ 10:05 PM
i was punched in the face in a school playground 5 days ago by another parent she has mental health issues i reported to the policestraight away and the school made me give a statementthe person who punchedme denyed it but there was witnesses the school have banned the women from school yet the police still havent been to see me 5 days on
shell
- 13-Nov-16 @ 11:24 AM
Can I make a complaint about a juror? Laughing at the statement I made?
Abs
- 10-Nov-16 @ 6:09 PM
My ex partner applied for and received a credit card in my name spending £7000 on it after using my identity and without my authority. I only discovered this after we split up. After the split, she continued payments for six months after I left the family home spending a further £3000 + on a Ford Transit van, concert tickets for a celebrity performance at the O2 Arena and hotel stays including train tickets. I have received all the relevant documentation for these purchases after applying to the credit card company. I have the original credit card application forms and paperwork including documentation from another fraudulent transaction from the Inland Revenue whereas she claimed Family Child Credit Benefits again using my name without authority. The police were informed and questioned her for identity theft and fraud. They say that it is a civil matter and have not preferred any charges regardless of them finding other damning evidence. The IPPC have said also that it is a Civil matter for the County Court. It seems that anyone can do this without fear of prosecution? All of the documentation received from the credit card company and Inland Revenue is in my possession and bears my forged signature. I now have the credit card company saying I'm liable and demand that I pay up. Can you help?
TST
- 9-Nov-16 @ 10:30 PM
I hope you can advise.We think our brother staged a break in at our late parents' house.The police did not investigate properly, and from the few comment told to me, the investigation has glaring errors, that are provable.Our complaint was investigated by officers at the same station.One of them agreed with us, but he was moved, and his successor closed down investigation.We went through the appeals but got nowhere. All we want are detailsof the initial findings, but the police won't supply them, despite we are joint owners under the will.The police said today we need a solicitor and court order to see this information.Is there another way, please?
happy
- 1-Nov-16 @ 11:10 AM
Can a court or authority destroy lives of young people by taking them to court giving them criminal record for riding bike on pavement? For having a firework? And does it depend on race and religion? Also can cps and courts take information from third parties eg public and those who work in public sector as gospel truth as evidence against someone without any substance to it? Therefore destroying lives by accepting statements as there is no way to prove something that has been done, told by another person to defame anothers character.often people who have good jobs are respected and make false accusations against another who they dislike or as a favour for another evil friend of theirs hence ruining the life of another innocent person could be out of jealousy or some grievance they have had from previous years long gone by.is it feasible for those in power for judges to take such uncredible unworthy statements without any evidence what so ever and use it in court against an individual?.i have seen this take form in several court hearings I find elsewhere in the world it is not readily accepted as part of a case.there must be substantial factual forensic evidence to prosecute and convict not hearsay from anyone.also the cps here in many instances dont necessarily want the perpetrator to be punished they just want convictions as a solicitor once said.
complain about any judge to any organzationwhich is waste your time ,because they all get together,even youare luck can find a one who is really act like the GOD ,probably you have knocked the bucket already after suffer all the stress ,unfair judgement ,twisted fact from judge and those people who ripped you off who are celebrating for winning from court judge whosaid in court , the management company can charge as much as they want, no matter how small the flat ,no lift, no porter,no share of garden with the common part which hardly be hoover at all and mice running everywhere in the building.the charge from £1300 per year to 4200per yearin 2years and going to be £8000 per year soon after the judge has supported this company to do those doggy matter
cloudy
- 13-Oct-16 @ 6:43 PM
my experience has taught me ,in court as long as you are rich you are the winner, the judges here have too much power can twist the fact ,treat poor people as criminal ,they even have decided before they meet you in court,why they still want to arrange a hearing .because they want to make money out of government ,even police has refused to investigate the company we have report being dodgy ,if it was a company report an employee steal money the police would arrest you soon.i have a lot of evidence relate to what this government organzationdoingnothing for poor people.i can speakJapanese ,Chinese ,i will work like work for the GOD to warn people in ASIAN ,how a great Britainnot only allow rich people to rip off poor people also encourage this kind of criminal to be copied by others,and courts still keep their eyes closed,hope this government really can take notice from poor people said soon ,especially after Brexit because poor dont want to be treated unfair anymore
cloudy
- 13-Oct-16 @ 6:25 PM
TOKIE - Your Question:
A bench warrant was issued for my son for failure to appear however he appeared in Denver county court even though we have the paper work proving that his court date was set in the 19th of October. And the clerk told him that he was not on the docket and send us home. The next day a warrant was issued and my son was arrested at school. He's now sitting behind bars with no court date. What are my options. Please help
---
Our Response:
Due to the fact we are a UK-based organisation with knowledge of only UK-based courtroom law, I'm afraid we cannot answer your question.
CourtroomAdvice
- 11-Oct-16 @ 2:29 PM
A bench warrant was issued for my son for failure to appear however he appeared in Denver county court even though we have the paper work proving that his court date was set in the 19th of October. And the clerk told him that he was not on the docket and send us home. The next day a warrant was issued and my son was arrested at school. He's now sitting behind bars with no court date. What are my options. Please help
TOKIE
- 11-Oct-16 @ 2:35 AM
Can you help or advise on a judges order in court on Sept 2016, regarding an order for costs in a divorce hearing. My ex was seeking costs against me for our divorce, I had asked the courts to allow each of us to pay our own costs due to the person I married had lied to me about her legal status in the UK along with the fact that she was in a long term relationship with another man, and never lived in my property and always rented her own home.. In the courts the judge ordered that we each pay our own costs and that my ex should pay half of my costs I heard what he said specifically and my ex was in tears due to the order. Two weeks later my solicitor sent me a letter stating that the order from the court was that I should pay my ex half of her costs and no mention of who should pay the divorce costs. My solicitor who was not present in court on the day wrote to the courts asking them to correct there error, there reply was the judge stands by what he has said in the letter, this is NOT what he said in the courtroom. I was then advised by my solicitor to write a letter to the courts which my solicitor helped with, two weeks later I have a reply from the courts saying that as I have a solicitor they will only talk to them and they cannot reply to me, that's unfair as they have already replied to my solicitor and they know this. The judge made a mistake and needs to own up to it and correct the error he put in the letter, my house and my whole life depends on his order.
owenowen1234
- 8-Oct-16 @ 1:58 PM
What happens if the judge on family case had the ex partners family member working along side him on my case evedence went missing i.e. Papers with my evedence and the case was all one sided
Mama
- 7-Oct-16 @ 6:39 PM
Coldhardfloor - Your Question:
How can you complain if cctv evidence was not shown during a trial? My brother broke into my parents house and chased my dad up the stairs with a 12 inch kitchen knife. Dad locked himself in the bathroom and my brother kicked it in. Dad managed to fight him off and get down the stairs, brother went and got another knife and started trying to cut his own throat and face. Cctv is present and working in the house due to my brothers ongoing violence and drug abuse (he is a repeat offender). We showed it to the police, however brother was taken to magistrates court on Monday morning and given a 4 month custodial sentence for a common assault, of which he will serve two. How can this be right? One officer who dealt with the case thinks that the cctv wasn't submitted and that's why the sentence was so low. We don't accept this sentence and want a review into the handling of the case. Can you advise on the best way to go about it? Thank you.
---
Our Response:
I'm afraid we cannot advise on this as it is beyond our remit. It is a matter for your father's solicitor to follow up.
CourtroomAdvice
- 30-Sep-16 @ 11:39 AM