What Will Happen if I Don't Turn Up at Court?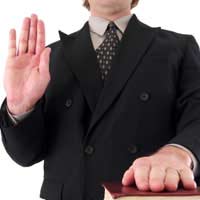 Q.
What would happen to me if I did not attend court as a witness? I have no evidence in the case and do not wish to go, it is only a minor case so could I get arrested or would I just get a fine?
(Mr ryan ward, 4 December 2008)

A.
The type of case you are involved in will determine what could happen if you don't attend court as a witness. Even if you don't think you have any evidence to give to the court, this isn't your decision to make. The person that is bringing the court case will have a solicitor who will decide whether you should attend court to give whatever evidence they think you have that is pertinent to the case.
Generally speaking you should not have any serious consequences if you don't actually attend the court. However, it may be the case that if you don't attend and you have not informed the police or the PPS (Public Prosecution Service) that you won't be attending, a witness summons may be issued. If this happens you are compelled to attend the court on the stated time and date. If you fail to attend the court after a witness summons has been issued, a warrant for your arrest would then be granted.
Also, making an excuse that you are ill for example is not good enough. You would have to produce a doctor's medical certificate that states that you are not in a fit state to attend the court. If other events prevent you from attending court, you should let the court know as soon as possible. Depending on the seriousness of the case and how essential your evidence is, you may be excused attending.
Lastly, if you want to ensure that if you do not attend court you will not be prosecuted or arrested by the police, you can apply to the court for a decision on whether you do actually have to attend the court to give your evidence. Contact the court where the case is being heard for further details about how to make this application. Note that a fee is payable to gain this type of decision from the court. There is more information about going to court as a witness here and here. You will also find information on the HMCS (HM Courts Service) website including a number of leaflets that explain what to expect when being a witness in the different types of court you could be asked to attend.
You might also like...
Hello, Please can you help me. I am a victim of crime, the perpetrator was arrested for theft and fraudulent activities. Passed to the CPS they proceeded on the aspect of fraud which I was assured would not affect my position in consideration of me being substantially out of pocket for my losses and put into debt liability for recovery and storage fees. The CPS failed to prosecute claiming the case collapsed due to the witness for the other side failing to attend. However the provable facts behind why this occurred was down to several fatal errors made in the CPS procedure which have since been explained using false accounts of what actually went on as my records can prove. These have since been passed to the CPS Attorney who recently provided me with their version of events for the first time which confirmed with me those discrepancies and errors made (also pointed out by the Victim Care liaison officer). The Attorney suggested no way for me to further this matter other than contacting CAB. Hence I am left completely helpless and out of pocket whilst the perpetrator 'walks free' who unbelievably but claimed to be true carries my same name which may or may not added to the failings made by the CPS for what I was reliably informed by them was an open and shut case only strengthened if witnesses failed to attend. Any assistance would be greatly appreciated and a full account can be made available anytime. Yours faithfully, Russell Davies.
RMD777
- 18-Sep-23 @ 3:10 PM
Prietenul meu nu sa prezentat la tribunal in Scotia ca martor de 3 ori astazi 12 iulie sa prezentat si mai are pe 27 iuliece se poate intampla cu el poate fii arestat multumesc
Ramona1981
- 12-Jul-22 @ 9:46 PM
Jennie, If you have any genuine concern for your ex or still have any feelings for him do him the best thing that you can do for him and walk away Delete his details and change your number and never have any contact ever again ANY police involvement now will see him being sent to prison as now there is previous with you both that the courts now
Mrman
- 2-Oct-21 @ 2:15 AM
To all who have wrote before me, Advice is simple …. Seek legal advice ! Don't seek advice about your life and future from strangers online.Get it from the prosthe courts will tell you any old rubbish and it could lead to a bigger issue. Read up on the laws in this country that's relevant to your situation; It's all online and easy to follow but first and foremost get in touch with a solicitor and have a free chat and get proper invaluable and lawful advise I hope this helps
MrMan
- 2-Oct-21 @ 2:06 AM
My friends husband was unable to attend a court hearing this week on the 24th August 2021. The herring was not in person but over the phone at Nottingham County Court. The reason for his non- show was due to an administration error on the part of the court. The letter instructions said the appointment will be at 12.30pm but he received the call at 10am, 2hours sooner than stipulated in the letter. He was unable to take the due to a prior engagement. His wife has emailedthe initial letter instructing the herring to explain their reason for a no-show but is concerned whether this will further penalise her husband's case.
Saj
- 26-Aug-21 @ 1:02 PM
My ex partner failed to attend the trail last week does anyone know what will happen will he be caught or just left until he does something else involving the police .
Kaz
- 30-Mar-21 @ 3:10 PM
I missed a court hearing 10 years ago,I live in Ireland will I be allowed back to England without arrest?
Dor
- 26-Mar-21 @ 5:42 PM
Hello there, i need an advice: Ive missed a court date a year ago cause of corona but didnt report it to no one :( (was on bail) for a DD charge (played not guilty as I actually wasnt driving). What are my options/consequences?Thanks
Question, can you be arrested at home and detained in a cell overnight and produced for a scheduled court appearance on the basis of telling the police on the phone that you intend not to show up for court, the day before the court date?
Joshua
- 22-Jan-21 @ 3:30 PM
You should always attend if you can, the police usually will go to your house or place of work. Generally 3-6 month custodial (jail).
Dr Grelode
- 6-Jan-21 @ 12:36 PM
If you go to court and take the stand in a family court can you refuse to answer the other sides Questions
Taz Manila
- 24-Sep-20 @ 4:56 PM
My ex tried to serve a non molestation order on me it was dropped due to her not turning up as required . I have lies and prof she was lieing what can I do stop this from happening again
Mr j
- 23-Sep-20 @ 12:46 PM
Got a citation today but the event was over a year ago and didn't witness anything as my statement said so why am I getting called up to court?
haggis
- 5-Sep-20 @ 9:29 PM
wondering if anyone could help. My solicitor has forgot to attend the court date, what happens to me as the defendant?? Can someone please advise. Many thanks
kakashi
- 25-Aug-20 @ 5:15 PM
my partner is out on bail for domestic abuse girlfriend with his mouth i never got him charged it was.the police that charged him there no aitness so if i dont go what would happen to her and would her boyfriend get the jail or comment service
bobbi
- 8-Aug-20 @ 2:41 PM
I got pulled over by the police speeding and driving without a licence and insurance what will happen next?
Hod
- 19-Jul-20 @ 10:45 AM
My girlfriend was assaulted in the street by an ex employee of mine. As my girlfriend was going to the shop she saw the girl sitting in a car outside. As it was the first time she had seen her since the ex employee stopped working which was a bit messy in the fact that we both classed each other as friends, my girlfriend felt a bit awkward and nervously smiled as she passed the car. After getting what she wanted from shop she left and started walking up the street. The ex employee then drove along side then got out leaving the car in the middle of a busy road blocking traffic and proceeded to attack my girlfriend from behind dragging her to the floor and kicking and punching at the same time. A member of the public had to intervene to stop the girl and gave my girlfriend a lift 200m up the road to home. At court she pleaded not guilty even though there is a statement from the passer by. My girlfriend is anxious about going to court and it is making her Ill. If my girlfriend does not attend will she get off at court?
Marla76
- 10-Jul-20 @ 10:17 AM
If i was involved in an assault as a victim amd i am summons to court what happens if i dont attend
You
- 28-Mar-20 @ 5:15 PM
Me and my ex got into it verbally I removed my elf from the house after asking for my stuff weeks ago now to hear I have to attend court and if I don't I will have a warrant do I just walk up with nothing no one and say hi what do I do don't seem fair!!!
Rayray
- 14-Dec-19 @ 1:17 AM
If I don't show up for court as the criminal would they send police to my last known address
Nobody
- 27-Nov-19 @ 12:17 AM
My ex partner seriously assaulted me I have made a statement to the police he hasnt been charged as of yet and is on a recall when he is charged I dont want to give evidence I just want to move away and forget about it all with my children so will they send me to prison if I dont turn up if so how long would I be looking at
Cally
- 9-Nov-19 @ 8:41 PM
What happens if the wife was a victim of domestic violence and the husband was going to trial and the wife was subpoenaed to testify against the husband. But the wife doesn't show up for court. What happens to the wife. Minnesota Law please
Confused
- 4-Jul-19 @ 6:00 AM
so i had a ticket in january for driving without insurance, the police officer gave me a court date but i was in a hurry and was worried id be late to work and maybe get terminated due to a lot of missed days and late arrivals. anyway, i stashed the paper in the glove department and forgot all about it. the thing is, the vehicle belonged to my ex and the car is long gone. so now i have a warrant out for my arrest and im gonna go to the municipal court today but i just wanna know whats gonna happen to me? will i be in big trouble?
Mimi
- 2-Jul-19 @ 1:15 PM
I have been summons to court as a witness for my ex it is section 4a if I don't turn up surley I can't be arrested please sum1 help
Jojo
- 11-Jun-19 @ 3:06 PM
I have a family court hearing this Monday bei g notified last week. My children's father has applied for contact after not seeing them for over 6 years. Their was serious domestic violancein our relationship and it was advised at the last court hearing he should have no contact whatever to safeguard my children. I have a retraining orser and prohibited step order In. Place and we have been safe from him for years. I am too scared to go to court or see him and if he follows me after to my hidden address. I do not qualify for legal aid to get advice from a solicitor because I work part time but cannit I afford a solicitor myself as I'm a single mum and dont. earn alot. So I was wondering if I have to attend the court at all and what would happen if I did not attend. Please help would be appreciated.
Sannne
- 11-Jun-19 @ 9:31 AM
I was summoned to magistrates court by the police fo that a motoring offence for which I was innocent and pleaded not guilty. I had to travel 250 miles to get to the court. The police officer was not at the court ad I was made to attend court on another day with all the expenses. If I didn't appear in court I would have lost the casefor no show. I feel that I should have won as I did turn up and they didn't. How do I stand?
Richy
- 11-Jun-19 @ 4:50 AM
Went to court last week for a speeding ticket done for 37 there was a legal sign up saying 40 no other sigh up when approached only 40 lost my battle found guilty and give me a fine of 740 had loads ofevidence but didn't want to known and hammered me in court cos they had Solicitor And I didn't want to appeal but got to pay don't earn much so really bad way been treated
Lou
- 1-Jun-19 @ 11:41 AM
I lost my licenses on the spot. I didn't get a court letter but I took it to court so I can try and fight it.But how can I cancel it cause I know I won't win
Bee
- 26-May-19 @ 10:52 PM
My window was smashed and I have been asked to attend court I ignored the first date and was issued another citation, but my window is fixed I want to get over it and move on I can't even remember the statement I had given the police that night as I was drunk from that morning right through until 1 in the morning so I have no clue and I don't want to make anything worse or be called a liar as I've no clue what to say can I call the court and say I don't want to attend or if I just don't what will happen it's such a daft thing to go to court for so surly their won't be any major consequences
Xeeee
- 19-Mar-19 @ 8:01 AM
My partner has just been arrested for failing to go to court he has never received any summons or phone calls or anything and the police know where he lives as they have came to his address to pick him up. What will happen with him not having any clue what it's all about and it is a weekend so will he be in till court on monday
Rachyb
- 2-Mar-19 @ 11:59 AM