Victim Support After a Crime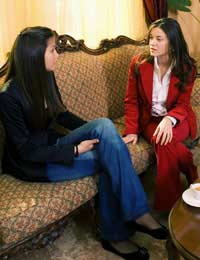 Victims of crime do not have to suffer alone. If you have become a victim of a crime you can get help, advice and support form a number of organisations. They can give you comfort and practical advice to help you cope with the stress that being a victim can often bring. Victims of violent crime in particular can feel isolated and afraid. It's important to realise that you are not alone and that the police, courts and support agencies are there to help you.
Help for Victims
If you have become the victim of a crime you can get help and support from Victim Support that is a government funded organisation that has been especially set up to offer practical help to the victims of crime. Their website contains helpful information and advice that can ensure you always feel that you have someone to turn to while your case moves through the courts.
You can contact Victim Support by telephoning: 0845 30 30 900 or by visiting their website: www.victimsupport.org.uk/vs_england_wales.
Help for Witnesses
Victims of crime are often also witnesses to crime. Victim Support can offer special counselling if you have witnessed a crime. It is important that you talk to someone as suffering in silence can lead to feelings of depression and isolation. In most cases you won't have to appear in court, but if you do have to appear as a witness, the Witness Support program can help you before, during and after your court case. You can download a useful leaflet from the Victim Support website that covers what to expect if you do have to go to court.
Young Victims Support
If you are a victim or a witness to a crime this can be very stressful for young people in particular. It's important to talk to someone about your experiences. This could be a member of your family, or a close friend. Victim Support also
have a website
that is especially for young people who need support after being the victim of a crime.
Victim Support in Scotland
As in England and Wales, Scotland has its own dedicated victim support service. The service is completely free and confidential. Their volunteers can come to your home if you need support. They are also available by telephone and have services for witnesses and for young people who have been victims of crime. Their telephone helpline is: 0845 6039 213, or you can visit their website at: www.victimsupportsco.org.uk.
Also, if you are the victim of a crime committed by a young person, you can get support via the VOYCE (Victims Of Youth CrimE) scheme. They can be contacted by telephoning: 01382 305 735.
Victim Support in Northern Ireland
More than 50,000 people have been helped by the victim support service in Northern Ireland. It offers similar services to the England and Wales offices. You can contact their victim support helpline on 0845 30 30 900, or look up your local office on their website: www.victimsupport.org.uk/vs_ni/contact/contact.html.
Getting Compensation
Don't forget that in many cases as a victim of violent crime (called a criminal injury) you may be able to claim compensation. In England, Wales and Scotland you need to get a form from the CICA (Criminal Injuries Compensation Authority). You can contact them by telephoning: 0141 331 2726. In Northern Ireland you need to contact the Compensation Agency by telephoning: 028 90 2499 44.
You might also like...
My partner was victim of a vicious dog attack where he and 4 other people were attacked. It went to court over 12 months ago and all injured parties including my partner were awarded compensation. All parties claimed to recieve the compensation. The only correspondance any of us have had is a letter detailing the conviction of the defendant and amount of compensation to be recieved, this was over 9 months ago with no advice as to what to do next. Do we chase this up or just wait as we have no idea if there is a time limit on recieving said compensation?
i v been abused i need death/// £150 west green rd mohammed m.alam islington beriol support 800£ deed
maqz
- 2-Dec-16 @ 9:38 PM
my home was set on in an arson attack we lost everything samantha17,Blake13 and tyrone12
Mumma
- 22-Sep-16 @ 6:13 PM
I got stabbed in my back and defendant charge with section 18 and 20 intent to wound can you claim even tho he not been sentenced yet he on remand at the moment his trial in Nov 2016
Riz
- 11-Aug-16 @ 6:26 PM
Hi my brother-inlaw was stabbed during a feud with neighbours its has been 3 yrs since and he filed for çompensation but has been refused as they are saying he went out of the safety of his home and knowinly summit was going to happen can he still get compensation or not with another solicitor plZ help
Confused
- 12-Feb-16 @ 12:56 PM
@Survivor - I am sorry to hear of your experience. I have included a link to one of our partner articles How to Complain About the Courts and Police, link
here
. I hope this helps.
CourtroomAdvice
- 10-Feb-15 @ 2:53 PM
Please help, during a heated, (but not physical or threatening argument) with a dog owner over the treatment of his animals, I was assaulted, literally beaten, and cut leaving a lasting disfiguration.CPS decided to prosecute.However and to my jaw dropping amazement, the defendants were found not guilty - something to do with evidence, but didn't quite hear all of the closing statement due to shock. They have completely got away with a vicious attack.Can I now take them through civil proceedings of any kind? please help, I have been searching and asking for information but no agency or independent body appears to be willing / knowledgeable to advise on how I as a victim can proceed further? Please help me.
Survivor
- 6-Feb-15 @ 1:15 PM
Please help,I was assaulted, literally beaten, and cut leaving a lasting disfiguration. CPS decided to prosecute. However and to my jaw dropping amazement, the defendants were found not guilty - something to do with evidence, but didn't quite hear all of the closing statement due to shock.They have completely got away with a vicious attack. Can I now take them through civil proceedings of any kind?please help, I have been searching and asking for information but no agency or independent body appears to be willing / knowledgeable to advise on how I as a victim can proceed further.kindest regards,Cheryl
Survivor
- 6-Feb-15 @ 12:47 PM