Information about Small Claim Courts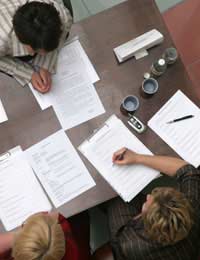 The small claims court is typically used to settle disputes over money that cannot be settled in another way. Also, the small claims process can be used to settle disputes over damage to your property, personal injury, faulty goods, road traffic accidents and bad workmanship.
Bear in mind that you now have a number of other options available to you that could settle your dispute without resorting to a court case. Systems include ombudsmen schemes, mediation and arbitration. Collectively they are known as Alternative Dispute Resolution (ADR) schemes.
Which Court to Claim your Money
It is a requirement that you exhaust all other means to settle your dispute before you go to court. The
Money Claim Online website
is a fast and convenient way of making your claim as the entire process is done via the Internet. You can pay all fees and track your claim from any computer connected to the Internet.
The court you will have to use for your claim will depend on how much money you are trying to recover. The Money Claim Online system enables you to make claims of up to £100,000. Claims of over £15,000 can be heard at the high court and claims in the small claims court can be up to £5,000. The County Court can hear claims of any amount with no upper limit.
The Cost of Making your Claim
Using the small claims system will mean you have to pay a court fee. The level of this charge depends on how much you are claiming. If you are claiming state benefits you will usually not have to pay any court costs. Also, if you can show that paying the court costs would cause you hardship, you may be able to get a reduction in the fee you have to pay.
If your case requires witnesses, you may have to pay their costs that can include the money they have lost through a day off work, and their travelling expenses. If you win your case, the defendant may be ordered to pay these costs to reimburse you. Also, if your case requires expert testimony, you may have to pay these costs. Again, the defendant may be ordered to pay these costs if you win the case.
Will I Get My Money?
If you are trying to claim from a person who has declared bankruptcy, you are unlikely to get your money. You can contact the Insolvency Service by telephoning: 0845 602 9848 who will be able to tell you if the person you are claiming against is insolvent and therefore will not have the assets to pay your claim.
If you are claiming against someone who already has other claims against them, again it's unlikely that you will get the money you are owed. You can check if the person or company you are claiming against already has any claims or 'judgements' against them by contacting the Registry Trust on: 0207 380 0133. You will have to pay a fee to search their database. This is well worth it as it could save you time and money on a claim that is unlikely to succeed in the small claims court.
Remember that even if you win your case the court will not take any further steps to force the defendant to pay you what they owe. You can go back to the court if you are not paid and ask for what is called an 'enforcing your judgement' to begin, but this will mean you have to pay an extra fee.
When You Need a Solicitor
Generally, claims under £5,000 can usually be dealt with yourself using the small claims court, or the online claiming system. If your claim is over £5,000 and is for any kind of damages, it is advisable that you use a solicitor. Claims for personal injury can be complicated. It's often a good idea to talk to solicitor before you begin your claim as they can advise you if your cases is likely to be successful.
You can also use one of the many businesses that have sprung up over recent years that offer a no win, no fee service. Most of these businesses are completely legitimate and can help you with your claim, but it's still a good idea to check the business you want to use is operating legally by calling the Claims Management Regulation department at the Ministry of Justice on: 0845 450 6858.
If you do decide to make a claim, your first step should be to read leaflet EX302 'How to make a claim' and leaflet EX301 'Making a claim? Some questions to ask yourself' that you can download from the Justice website.
You might also like...
I applied entry clearance visa for my children to join me in the uk since 2015 got refused I did spend a lot of money was refused because the judge said the father of my kids lived with the children for along time but he did not want to give me the children I never lived lived with my children since they were young 2/3 years I did try to explain to the home office and the judge they did not listen to me I feel the pain in my heart please I need advice
micky
- 1-Jul-19 @ 9:08 PM
Hi I just have an inquiry I have got a refusal on a settlement uk visa and then I appealed ,.Today I got also a refusal on my appeal, I just waiting the reasons for my unsuccessful appeal .. i just want to know how many days should I wait to take a date for my hearing and after how many days I'll be notified by the answer if I'll get the visa or not by the judge in small court Please don't hesitate to contact me I need help :( Kind Regards
I want to cheak the result of my appeal which i make in the result of reafusl of my visa in Uk, on 27/02/2015 GWF no: GWF034816792 i want to know my status.
beenish
- 28-Oct-15 @ 12:03 PM
@kaz - it seems impractical that a meter would be taken away over a debt. However, a court of law can decide pretty much what they want to decide.
Dan
- 16-Mar-15 @ 1:40 PM
iam quite up on law and i know its not legal for a magistratw judge to issue a warrant to a business over a small energy debt to have their meter taken away the only time a warrant can be issued is for health n safety not a dispute over a debt that was being disputed anyhow iam right aint i
kaz
- 13-Mar-15 @ 11:17 AM
I found IMSFX Money transfer company online and deposited 5000 Pounds cash to this company account to be transferred to US in 24 of March 2014. since them we had so many emails and it seems they are scamand after making complaint to financial ombudsman and court I still could not get my money while they show they work with FCA and not scam but what you clearly see in their emails which have been sent to me they are not going to give my money back. I was waiting for court hearing so long and I called court every Friday to see at least I can take them to court and get my money back but I filed my small claim court in 10 April 2014 and today I got my hearing date and the hearing will be in 16 of March 2015. It means more than 11 months. It is unbelievable for me. Is there anyone had court hearing timelike this?!
negan
- 25-Oct-14 @ 12:08 AM
If someone took me to claims court, with me having accepted the fact it's a loan but didn't like how much I can afford to pay back. How much would they make me pay back on the account of me being fully on benefits with two children?
Smug
- 8-Sep-14 @ 8:48 PM
Our daughter recently left home and has been housed by nacro due to issues she has. She used to cut herself and has an anger management problem.She is abusive to me and her mum and wants access to see her nine year old brother. We are reluctant for her to have non supervised access as in the past he has come home upset telling us she has been saying nasty things about mummy and daddy.She often phones despite our request for her to contact us only through her case worker. She is always abusive on the phone and we are at the end of our teather. What can we do?
Bucktaylor64
- 5-Dec-13 @ 9:58 PM
My ex partner claimed I owed him money and managed to sucessfully win a small claims judgementagainst me dispite having no evidence to prove his claims.I did not attend the hearing but did send ina written defence backed by concrete evidence.I wasinformed that not attending went against me. I paid him the money as he had spent 3yrs stalking meand hoped this would be the end of matters as he would have noreason to contact me.It has been suggested to me that he has made a habit of this and I am trying to find out if I can search the small claims records to see if this is the case. How do I go about this?
wronged
- 21-Nov-13 @ 2:38 PM
I HAD A JT LIFE POLICY WITH MY WIFE OF 100000 POUNDS BUT INS CO PAID ONLY 57000 POUNDS SAYING IT GOES DOWN AFTER SO MANY YRSI DID NOT KNOW THIS IF I DID I WILL NOT HAVE GONE FOR THE POLICYCAN I GET THE DIFFERENCE PLEASE THANKS AND REGARDS
doc
- 12-Jul-12 @ 10:52 AM
Good informative site. Well done.
Magic
- 30-Mar-12 @ 7:38 PM