Information about the Magistrates court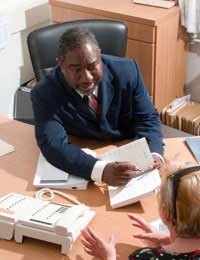 Most of the criminal court cases that are heard in England and Wales take place in a Magistrates Court. A Magistrates' Court is usually presided over by three magistrates. They are called Justices of the Peace. The panel of judges is often called the Bench. Magistrates are not paid, but they can claim for expenses and loss of earnings. There are roughly 30,000 magistrates currently working in England and Wales. You can locate your local Magistrates' Court on the HMCS website: www.hmcourts-service.gov.uk/HMCSCourtFinder.
In addition to the ordinary magistrate, England and Wales also have 130 District Judges. They have more formal legal qualifications than a magistrate. They usually sit alone and handle more complex and serious offences such as fraud. In a Magistrates' Court sentences of more than 6 months cannot normally be handed down, or fines over £5,000. If the offender's crime is more serious and requires a higher fine or a longer sentence, the Magistrate's Court will refer the case to the Crown Court.
Cases at the Magistrates' Court
Most of the cases that come before a Magistrates' Court will be bought by the Crown Prosecution Services (CPS). However, some government departments such as HM Revenue and Customs and the Health and Safety Executive may bring their own cases. The CPS will also have a representative in court to prosecute their case.
Defendants who come before a Magistrates' Court will either be in police custody, are on bail, or have been summoned to court (if they haven't paid their council tax for instance). For defendants there is a duty solicitor if they have not brought their own to court. Often with minor cases such as motoring offences the defendant will represent themselves.
When the court is in session the defendant who is before the magistrate for a summary offence (that is a petty crime that doesn't need a jury to decide on guilt or innocence) will be asked to make a plea. If this is not guilty a date will be set for the trial. If the charge is an either way offence (in that the cases could be heard equally at a Magistrates' or Crown Court) the Magistrate will decide how to proceed after arguments by the prosecution and defence have been heard. If the offence is indictable (that have the right of trial by jury) the case will be sent straight to the Crown Court. If the plea is guilty the Magistrate will consider sentence, but if the crime is serious they may refer the case to the Crown Court that can impose higher sentences than the Magistrate is allowed.
Criminal Offences
There are a number of criminal cases that can go before a Magistrates' Court. They are divided into three categories and include:
Summary Offences. Cases that fall into this category include driving offences and disorderly conduct.
Triable either way offences. Cases that fall into this category include serious assault and theft. Note that these cases because they are more serious can also be tried in a Crown Court.
Indictable offences. Cases that fall into this category include rape and murder. All this category of offences can also be tried at a Crown Court. The Magistrates' Court will decide if bail will be allowed before the case moves to the Crown Court.
Civil Offences
A Magistrates' Court has a number of civil duties that it carries out. These include:
Cases concerning the welfare of children.
Granting gambling and betting licences.
Dealing with people who don't pay their council tax.
Family law including maintenance orders.
Granting alcohol licences.
Magistrates' Courts also issue warrants that have been requested by their local police force and also handle cases in the Youth Court when offenders are aged between 10 and 17. The magistrates that preside over youth courts have specialised training in dealing with young offenders. Magistrates' in a youth court can impose a custodial sentence known as a DTO or Detention and Training Order that can last up to two years.
Magistrates' Courts in Scotland
Depending on the type of offence, summary crimes in Scotland are heard by the Sheriff Court or the District Court. As in England and Wales, one or more Justices of the Peace will judge offenders in these courts. Offences heard in District Courts are of two types. The solemn procedure hearing takes place before a judge and 15 jury members. In these cases, the offender can be found guilty, not guilty or not proven. The summary procedure is a case where the judge sits without a jury.
Magistrates' Courts in Northern Ireland
Northern Ireland has its own magistrates' court system. County Courts are similar to the Magistrates' Courts in England and Wales. They deal with petty crimes and also offences linked to young people and family disputes.
You might also like...
I am in court next month for theft from my employer. I have been in trouble before for a motoring offence over 5 years ago. I intend to plead guilty. What do you think will happen to me. I have children and don't want to go to prison.
Lisa
- 11-May-21 @ 12:02 PM
Last year I was caught driving whist disqualified, I then got caught 2 months later but this time had a police chase, I got done for dangerous driving. I went to court for the first matter and asked if they both could be tied up, when I got to the court I had 2 separate cases in two different court rooms, it was all a big mess, when they did manage to link the 2 they told me come back for sentencing. I've gone back for sentencing but now they're saying it needs to be taken to the crown court..... but what's strange is I haven't been given a court date for the crown court hearing it's been well over a month, is this normal?
Hello, I assaulted three police officers while i was drunk in my own house. I dont have any criminal records or any convictions. What can be the possible outcome? Do i need a solictor?
Bob
- 17-Nov-20 @ 5:03 PM
Hello I've just been given my court date for being over the limit on thc how do I go about getting a duty solicitor, as I've just got married and can't afford 5000 pounds to pay for a solicitor fo the case thanks, I've never been to court except for jury service so I'm new at this
Nathan
- 10-Jul-19 @ 1:25 AM
I'm in magistrates court tomorrow morning for theft by employee. I intend to plead guilty what is my sentence likely to be? I admitted what I did at the first opportunity and have no previous convictions. Also will this be reported to the newspapers and media?
Cupple years ago I caught driving with out no license no insurance no mot and drugs on me I was homeless at time the police said they were going to summons me to court neave got paper work or a date so didnt trun up apparently got 6points and £660 fine but not paid it for over to years now can a warrant be made for my arrest at all
Clarkey
- 18-May-19 @ 2:36 AM
I have got a summons 444(1) for my child attendance I have never been to court before and it's only a week away and I'm not sure at all what I need to do
Jojo
- 14-May-19 @ 5:53 PM
I today received letter to appear in magistrates court 27 march for being 1ml over limit for driving under influence of marijuana. I paid for family holiday leaving 26 March for 14 days costing over £5000 I'm not disputing result but can't cancel holiday can they change date. Very little notice given. What can I do
Help
- 13-Mar-19 @ 6:09 PM
I have been charged for a common asault towards my 13 year old daughter and for criminal damage with her mobile phone.. im due to apear at the magistrates court next month.. I have since made amends with my daughter and replaced her mobile phone and she does not want to give evidence towards me.. So what will happen on my first court date ?
Jenno
- 15-Jan-19 @ 7:21 PM
Marie - Your Question:
What would happen if I'm summoned to court for an RTA offence but the date is when I'm out of the country on holiday?
---
Our Response:
You would have to take this up with the court directly.
CourtroomAdvice
- 30-Apr-18 @ 3:21 PM
What would happen if I'm summoned to court for an RTA offence but the date is when I'm out of the country on holiday?
Marie
- 29-Apr-18 @ 7:10 PM
@Eddie - if you are the person charged with the offence, then a warrant for your arrest would be issued.
NicH
- 11-Dec-17 @ 1:57 PM
What type of warrant is issued if i fail to attend magistrates court for fraud.
Eddie
- 8-Dec-17 @ 8:29 PM
@spread - What I can't understand is if someone is innocent and confident they hadn't been drinking why they would refuse to give a breath test? Surely they'd want to prove themselves right! Then the whole situation would have been solved instantly without your son having to go to court. The fact he refused to oblige can not possibly work in his favour.
Andy
- 5-May-17 @ 11:41 AM
my son is due at magistrates ct for failing to provide a breath test. He wasnt driving or in his vehicle at the time but outside his house walking his dog. He had been at home for 15 minutes before the police arrived. He had drove home from the pub but had only 1 pint there. he didnt see why he should give a breath test. He was aressted and locked up all night without being interviewed or given a solicitor.Will the duty solicitor be able to help him on the day of the court appearence?
spread
- 4-May-17 @ 1:49 PM
I may have to go to court for my previous employee saying I used an email with workers details to use for myself and to give to another company which I didn't I'm concerned if I have to go to court I have a pre booked holiday booked would courts change the date
Petal
- 24-Mar-17 @ 11:57 AM
I'm due in Magistrates Court for theft of employment / Fraud.... I haven't spoken to a solicitor yet but have been given advice to speak to the one at court... Could really do with a miracle if I'm honest...
GP14
- 15-Mar-17 @ 3:39 PM
I had a drink at partners and went for a cigarette in car as we don't smoke in the house and it was raining. I fell asleep with engine switched on as I turned heating on, i stopped drinking at 11pm and I blew 37 at roadside at 3:30 however i wasn't tested on canic machine at station until 5:40 I blew 49 and 47. I also had pyjamas on under coat and pair of jeans I threw on top to run to car. Where do I stand? Advice please?
Danny
- 14-Mar-17 @ 6:50 AM
Lee - Your Question:
Due in magistrates court tomorrow, racial harassment, section 28 (no assault took place, just aggressive argument, never been in trouble before, first offence etc) no legal aid as on no benefits stall, can't afford solicitor. should I be worried? Thanks.
---
Our Response:
You can see more via the sentencing guidelines link
here
which should answer your question.
CourtroomAdvice
- 2-Mar-17 @ 2:31 PM
Due in magistrates court tomorrow, racial harassment, section 28 (no assault took place, just aggressive argument, never been in trouble before, first offence etc) no legal aid as on no benefits stall, can't afford solicitor.. should I be worried? Thanks.
need advice friend mine charge abusive threat behaviour he 16 never trouble but police get 2 years he so scare made mustake we go prision as first time
Sarah
- 8-Feb-17 @ 10:03 PM
Hi, on 19th dec 2016 i recieved a magistrates court summon reason being a vehicle that was registered in my name but a car i was only going to be borrowing temporaily for work use,now the vehicle had no tax or etc n failed an m.o.t which the friend/landlady told me to put it in a carpark which she assured me was classed off the road, when i dropped the car there she then took key off me n said she deal with the car n m.o.t work as i work nights and sleep most the day time from that day on car was in her possession whole time it got registered in my name n never knew where car was which i have witnesses thats wrote statements for me. During this time work colleagues drove me and from work 26miles away which i then decided to start staying at work accommadation 5 to 6 days aweek when v5 turnt up she hidden it away as she kept messing me about for taking possession over once m.o.t'ed which never happened due to engine overheating problem i kept pestering her to either get car sorted or allow me v5 to register car bak to her but she did'nt few months later so from june to august/sept she kept putting my request off but the car was parked on a public road 2 roads away from which i had no idea about at all so dvla are after me but i did sent a non guilty letter to both the court and dvla which i now have to appear on 8th feb in southampton which got transferred.
Paul
- 19-Jan-17 @ 7:47 PM
I received a summons to attend Magistrates court under section 444 (1) for failure to secure regular attendance at school of registered pupil. I would like to plea not guilty as my daughters attendance to school is regular, the FPN issued by NCC looks at a 12 week period and not her attendance over the whole academic year, which was 90%. I've sent my evidence to the council, along with appeal letter and will take my evidence and appeal with me to court - will a duty solicitor be able to represent me? and will this go to trial?
VjB
- 11-Jan-17 @ 10:27 AM
Hi, I am due in magistrates court soon for a drink driving offence...for which I am pleaing guilty. Will the court be sending any last minute paperwork to my home address as I am worried about my reputation being affected if a housemate where to see any letters for me stamped by CPS or the courts
My mum suffered abuse by a care worker along with other patients this care worker was found guilty in November but failed to come to court for sentencing last week and again today a bench warrant is being issued . Can you please explain what this means and what happens next. She is also up on charges of punching a witness outside court and verbally abusing and threatening myself so the warrant is for both cases. I'm at mywits end over this and now she is playing the mental unstable card . Should that not have been done earlier in the trial?I'd be so grateful to any advice you can give me . Yours gratefully Jo-Anne .
Jojos
- 19-Dec-16 @ 5:12 PM
I have been summoned to a full court hearing to which I have completed paper work and pleaded not guilty. The date I have been given I am away on holiday which was booked already. Is it possible for the court to change this date?
Iv been summoned to court and my daughter has been invited as witness and she does not want to go . What will happen if she says she not coming??
Dani
- 1-Dec-16 @ 10:50 AM
I'm to attend the magistrates court next week, I think the crime is fraud, due to not informing correct benefits when increasing my hours, I cannot find anyone who will help me to represent me, I just cannot afford this, I'm really worried and scared, what other options do i have .
Tray
- 19-Nov-16 @ 9:13 PM
Hi I'm going to magistrates in a few days and I'm wondering if I need to be represented there, I'm getting done for drink driving, driving with no insurance and no licence, thanks
Connor
- 27-Oct-16 @ 6:22 AM
concerned - Your Question:
My son is due in court on a driving offence can he be dealt with in his abscess or will a warrant go out for his arrest
---
Our Response:
Much depends upon what the driving offence is. If it is a minor offence then it can be resolved by letter, whereas a more serious offence such as possible disqualification will require personal attendance. However, if a person has been charged and bailed, they must attend. In other cases, an individual may be able to avoid attending by having legal representation present in their place. Your son may have been given information on whether he should attend in court/police correspondence, or he may wish to seek legal advice if a legal professional is involved in his defence.
CourtroomAdvice
- 17-Oct-16 @ 11:11 AM