Information about the Youth Court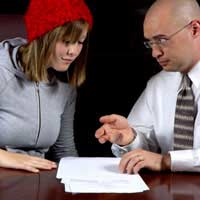 Young people who commit minor offenses are dealt with outside of the court system as much as possible. Reprimands, and official police warnings are usually given to young people who break the law. Orders like ASBO's (Anti-Social Behaviour Orders) have a high profile because of media coverage, but if a young person continues to offend, they will eventually be sent to the youth court.
Which Courts do Young People Appear in?
In most cases young people aged between 10 (which is the legal age of criminal responsibility) and 17 will appear in the youth court. However, Magistrates' courts also deal with offenders under 18 years old if they are in custody with an adult charged with the same crime. The young person could have been their accomplice for instance. The Crown Court also hears cases involving young people if their crime is more serious. This can happen if the crime committed is serious enough that the youth court can't impose a sentence that the crime could attract.
In Scotland the system is slightly different in that children between 8 and 16 years old who have committed a criminal offence will first be evaluated by a Children's Hearing that determines whether the children require some form of care instead of a custodial sentence. Young people between 16 and 21 who are convicted of an offence usually serve a custodial sentence in a young offender institution.
In Ireland the age of criminal responsibility is 12 years of age. However, children aged 10 or 11 can be charged with serious crimes including murder, rape or manslaughter. Children under 12 who commit an offence will usually be taken into the care of the Health Service Executive. Also, a child under 16 can also be given a period of confinement in a children's detention school. Children aged between 16 and 17 can serve in detention centres. Young people over 18 will serve their sentences in an adult prison.
How the Youth Court Works
Youth courts are just like any other court in the country but they deal with specific cases where young people have continued to offend and must be give more strenuous sentences than the police can impose. The youth court is different from other courts in that there is no public gallery. Only those people connected to the case being heard are allowed in the courtroom. The press are allowed, but they have restrictions about what they can report. They can't for instance, mention the names of the people in the courtroom.
The court itself if similar to every other court in the UK, but the magistrate has been given special training in how to handle young people that come before them. In some cases that involve very young children, the court officials won't wear their usual uniforms or gowns. This is to reduce the stress that very young children may feel in a courtroom that can look intimidating to them.
Young people who appear in a youth court can be bailed to appear later, or remanded into custody. The police will make a recommendation to the court about which of these they would prefer. If the offender pleads not guilty, they will then move forward to a trail at the youth court at a later date. If they plead guilty, sentencing will follow. If their crime is serious, the case will go to the Crown Court for either sentencing or trial.
Custodial Sentences for Young Offenders
Young offenders who plead guilty or are found guilty could have a Detention and Training Order (DTO) placed on them as a sentence. These can be given to anyone aged between 12 and 17. The sentence can range from 4 months to 2 years. The sentence is divided into a period in custody and a period in the community under the supervision of the youth offending team.
If the offence that the young person has committed means it will be heard at the Crown Court and the offence if committed by an adult could receive a sentence of 14 years or more, the young person could be sentenced under Section 90/91. Section 90 is for murder, with section 91 available if the court wants to impose a longer sentence.
You might also like...
A friend of my son has started punching him.My son later has punched him with a glass in his hand the glass has smashed in his face.First time. Not violent, in college and in work. What is he lookin at? Scared beyond belief
My brother is attending youth court but because my parents don't speak English would a17 year old be able to accompany or would that not be allowed?
Anonymous
- 11-Nov-20 @ 9:31 PM
Helo i just wanted to know what thelikley hood of a young person going to jail if its there first time going to cought but for assult
Please can you give me some advice, my 16 year old is attending court next week for riding around on out estates on a Petrol bike with no driving license. I will be attending with him as his Mum but do I need a solicitor. So worried as I can5 afford it. ??
Janey
- 31-Jan-18 @ 10:21 PM
Hi, I'm from South Africa and currently undertaking a Masters degree in Criminal Procedure. I'm primarily focused on youth offenders and the assessment of youth offenders. Can you in short detail the procedure to be undertaken by a youth court in terms of a youth offender who is mentally ill? Any information would be greatly appreciated.
Jules
- 20-Jan-17 @ 8:58 PM
Son 15yrsin possession on knife in bag in public place going youth court 1st offence pleading guilty...idea of outcome.
tomboy73
- 4-Nov-16 @ 12:33 PM
@Cinders - always their smartest clothes, creating a good impression is important in court.
My 17 is in magistrates courtsoon it is a serious offence, I realise this is only the charge, what should they wear( male) Thank you.
Cinders
- 12-Oct-16 @ 6:04 AM
He was charged with sexual assault. Not taken through the whole SCRA process so should he be PVG checked it will be clear. He can work in schools, nurseries, hospitals ect. I understand the complex nature of youth offending but not when it's at the expense of public safety. Thank you for reply. Leaona #youngoffenders have victims too.
Leaona
- 8-Nov-14 @ 2:07 PM
@Leaona - this is difficult for us to comment upon given the sensitivity of its nature. However, if a charge was not bought, you may have a right to request a review of that decision. I hope this helps.
CourtroomAdvice
- 6-Nov-14 @ 10:06 AM
I was victim of sexual assault, the 13 year old wasn't even evaluated by a hearing! Even though the NSCU said there was enough evidence to prosecute.
Leaona Strain
- 4-Nov-14 @ 4:51 PM
If a minor offence has been committed by a young person, would the magistrate hand out a Civil Law Order or a Criminal Law Order, and why ? Thank you for your time.
moomin
- 2-Nov-12 @ 9:05 AM
If my MMO works, that'd be goooooooood
Joshua Tasker
- 18-Sep-12 @ 3:31 PM