Caught Drink Driving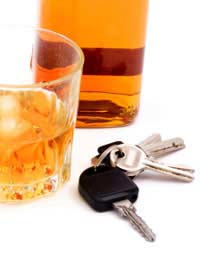 The police can stop you if they suspect you are driving under the influence of alcohol. Also, if the police suspect you are about to drive a vehicle (for instance you have your keys in your hands and are just leaving a pub) you can also be stopped and asked to take a drink-driving test. You may also be asked to take a breath test if you are involved in a road traffic accident.
There are three general drink-driving offences:
Being in charge of a vehicle when you are over the legal alcohol limit.
Driving a vehicle whilst over the legal alcohol limit.
When stopped by the police failing to give a breath test.
At the Roadside
The first test that you will take after the police have stopped you will be a breath test. You are breaking the law if you refuse to take a breath test, but if you do refuse you will be arrested and taken to a police station where a sample of your blood or urine will be taken for testing. Note that only a doctor can take a sample of your blood, and only with your consent.
At the Police Station
When you arrive at the police station two samples will be taken. The lowest reading will be used as evidence in your case. You should be given a printout of the alcohol level that has been detected for your own records. Usually the samples are just breath samples, but the police can request that you give a blood or urine sample. This may happen if you are unable to give a breath sample, as you are too drunk. Also, the police may not have a breath device or a qualified officer to operate it available. A doctor may also have informed the police that your condition may be because of drugs and not alcohol.
What Happens if I am Charged?
If your alcohol tests are positive you will be told your rights and cautioned about anything you say can be used in evidence against you. The details of your offence will be recorded on your charge sheet that you will have to sign. You will be given a copy for your records. You will then be free to go and expected to appear at the court at the stated date and time on your charge sheet.
The Penalties
If you are found guilty of drink-driving the penalties are:
A ban from driving for at least 1 year.
A fine of up to £5,000.
Between 3 and 11 points to be put on your licence.
A prison sentence of up to 6 months.
What are the Legal Alcohol Levels?
You can be found guilty of drink driving if you have the following levels of alcohol in your blood:
35 microgrammes of alcohol in a100 millilitres of your breath.
80 milligrammes of alcohol in a 100 millilitres of your blood.
107 milligrammes of alcohol in a 100 millilitres of your urine.
Note that if one of the two breath tests you will take is below 39 microgrammes you will not be charged. If your breath test is between 40 and 50 microgrammes you must be offered the chance to give an alternative blood or urine specimen. However, if your breath test is over 51 microgrammes you will be automatically charged and face an appearance in court.
You might also like...
I got stopped for drink driving over 6 months ago now and the court case keeps being adjourned. I was informed that the police have 6 months from date of offence to ban me. It's been over 6 months now so will I still get banned?
Hi was was recentlystopped for drink driving, I wasnt cautioned at the police station and not offered a solicitor, nor was I given a copy of my breath test. Can this affect my court case. Many thanks Steph
steph
- 19-Jul-20 @ 4:30 PM
Got pulled this morning and had to do a breath test. Blew at 50 have a court hearing next month. This is my first time. What will I be expected with? Thanks
Sian
- 7-Jul-20 @ 12:30 PM
I blew 49 in the station have to go to court any ideas what I'm facing thanks
Aaron
- 6-Jul-20 @ 7:40 AM
I just blew 48 at the roadside. Tooke to the stationbut the machine wouldn't work so had to give a blood test. What does 48breath test equate to in blood test. Also it was approx 2 hours after first test. Am I likely to be under the 80 blood test limit? Thank you
E-j
- 28-Jun-20 @ 10:56 PM
How do I find out what level my breath test results were after I lost my licence? I am about to get it back after my Nan but need to know what my level was to see if I need a medical or not to get it back??!!
Sam
- 28-Jun-20 @ 11:59 AM
I was in hospital multstory car park , broken my wrist in 2 place's had vodka to help the pain . If in a car park will I still be charged
Steveo
- 2-May-20 @ 9:43 AM
Been caught last night the way home from work drank and tested Namely 65micro in 100 milli of breath !what Penalty I'm going to get :(
Max
- 26-Apr-20 @ 1:23 PM
I was arrested and charged with failing to do a breath test. I was really drunk but not the driver of the car. It's my car so if been charged with suspicion and failing to provide. Will I loose my licence? Any help is appreciated
Sandra
- 20-Apr-20 @ 9:54 AM
I had done 12 hour night shift as keyworkers for hospitals farmers and fire brigadr came home had 2 vodkas and cokes..realised I had no bread and milk. Thought only had 2 I be fine..need to get some had none during corona with being at work went shop. Got caught. ...blew 40.... gutted what am I looking at?
Dumb
- 19-Apr-20 @ 11:03 PM
If you're taken to a police station to be breathalysed, how long until you're released?
Hello I was outside a friends house early hours on Sunday and my car was running with the engine on and I was stood at the front door of the house and police turned up and breath tested me. Couldn't tell me the result and took me to the station where I blew 65. Why can I get done for drink driving when I wasn't in the car and wasn't pulled over by the police for being in my car.
Chris
- 13-Apr-20 @ 2:38 PM
I blew 109 Sunday morning. What can I expect in court
Jake
- 30-Mar-20 @ 3:42 PM
Wise up guys , dDrinking and driving is not smart it's totally irresponsible to others and yourself
None
- 8-Mar-20 @ 5:19 PM
I got done with being drunk in charge sitting in my car, blew 75 at roadside then got to station and blew 82 but it didn't register properly the machine wouldnt work basically so I did a urine sample, pissed in the cup then got told to pour it out and wait half hour then go again done that then they took it away so it could go for analysis, that was about 5-6 weeks ago and I haven't heard anything yet anyone know how this works or what happens from here ? Thanks
I offered to swallow the cops cock and it worked x
Sillyme
- 2-Feb-20 @ 8:48 PM
Hello there I got caught on drink drive Twice on 2015. I'm pretty sure I've done the breath test once as far as I remember have know idea how much it came up to. Can't remember doing breath test on 2nd time. Right my question is I got no receipt or any copy of my breath test. Just want to know how much it came up to. Been to police station see if they can provide me a copy of that. They said we can't. We don't keep Those records. I'm like really WTF. Can some one please tell me where is the best place to find for breathalyzer reading test. Trying to get a new car. All insurance company they ask for breathalyzer reading. Have no idea what to put down on it. Please help !!!!
Mee
- 27-Jan-20 @ 10:44 PM
I was cought drivingwhilst above the legal limit the breath result came out 40 I was not offered blood or urine test can I challenge them
Jama
- 18-Jan-20 @ 4:18 PM
Boo Sober up man youre not making any sense
raj
- 17-Dec-19 @ 10:52 AM
I blew42 micrograms never showed me my first test or given any receipt or urine sample or blood machine was playing up wen got therewas released wid keys wid in hourno calls help
Boo
- 17-Dec-19 @ 9:07 AM
I had drunk about 12 beer and when to move my car and got caught I had a blood sample and I don't know the results yet what I'm I looking to get
Costa
- 9-Dec-19 @ 9:13 PM
I got done for drink driving court day is the 6th of January I only blew 41 and wasn't offered blood test or urine test either will I receive a ban ? Or will this go in my favour?
Peapod
- 9-Dec-19 @ 11:43 AM
Hi John, ive heard that this is not the case now , however i blew between 40 and 50 , but only on there say so , later they gave me a piece of paper saying (demonstration test at the top and one at the bottom with the same ,, it showed 35 mg on the first test and 28 mg on the second ,, i dont know if this goes in my favour as they gave me another breath test when they took my finger prints ,, so im assuming this is the peice of paper from that ?
jimbo
- 7-Dec-19 @ 8:00 PM
I was not offered a blood test either and blew 40.Have to go to court now on 10 December.
Jord
- 26-Nov-19 @ 4:21 PM
I was charged with 39 not offered an alternative given 12 month ban but was offered and completed the drink aware course
Angelcake
- 25-Nov-19 @ 10:56 PM
I am still awaiting my blood test results from drink driving, it has now been nearly 14 weeks. Will this help me in court (if it does go to court)?
Samszeee
- 18-Nov-19 @ 1:01 PM
I was caught drink driving with 40 mg of alcohol in a 100 millilitres of breath. I wasn't offered a chance to give a urine of blood specimen. I have court it a couple of weeks, does this work in my favour? Thank you.
Helper19
- 18-Nov-19 @ 8:18 AM
Dear Jojo, If you were caught drink driving with just an 'L' plate as a provisional licence holder, then the Courts will tend to dismiss this, or have any charges run concurrently along side your drink driving charge, as the Courts will always look at the more serious offence - in this case Driving Under the Influence (DR10). However, you have not stated if you were driving 'alone' in the vehicle asLearner Driver or being supervised by a full licence holder? Either way, as a Learner driver you will automatically receive a mandatory 12 month driving disqualification. You cannot be asked to retake your driving test; because quite simply you haven't taken your test yet! Although the Judge may may ask you to take an 'extended test' when you re-apply for your licence back after your disqualification. Of course all matters depend on what your alcohol levels were, any aggravating factors - and who your Judge will be on the day!
Drink Driving Advice
- 6-Nov-19 @ 9:22 PM
I was caught by the police driving only with L and i was drunk can i know what will happenthanks
Jojo
- 27-Oct-19 @ 1:02 PM
Will my partner have to be sent back to Albania if he was caught drink driving in the UK.
Emma
- 23-Oct-19 @ 10:20 PM